Custom USB Wristbands Flash Drive Printed with Your Logo Wholesale Supplier
Perfect for students, school clubs, music fans and concert-goers. Promote your business by distributing these custom flash drive bracelets on a local campus, or make them part of your promotional freebies at your next conference or event.
Material: Rubber
Product size: 8.27x0.71x0.31 (L x W x H)
Interface: High Speed 2.0 interface. Available in 3.0
Features: Wearable USB Wristband
person person Choose us as your promotional gift supplier is the smartest decision you've made since we have supplied Gifts to 50+ famous brands worldwide, working with 37,000 customers in 20 countries.
Inquiry now
local_shipping Customize your logo for this product and promise to ship it within 7 working days.
Custom USB Wristbands Description
The wristband USB memory stick is an extremely popular and contemporary style drive with all schools, colleges, and universities throughout the year. The wristband USB flash drive is made of silicone material which makes the device satisfying to wear around the wrist as well as being moisture and shockproof with water. The wristband USB memory stick is a miraculous USB storage device which gives you the choice to choose capacities ranging from a small 128Mb up to a large 128GB. We can print up to three spot (solid) Pantone colors onto the wristband USB memory stick. There is a range of standard color shells consisting of; blue, red, green, yellow, black and white. Nevertheless, if you would like the option to Pantone match your USB shell then we can achieve this, but please note that there will be a small additional charge for this extra feature. Data upload is free up to 500Mb to all customers.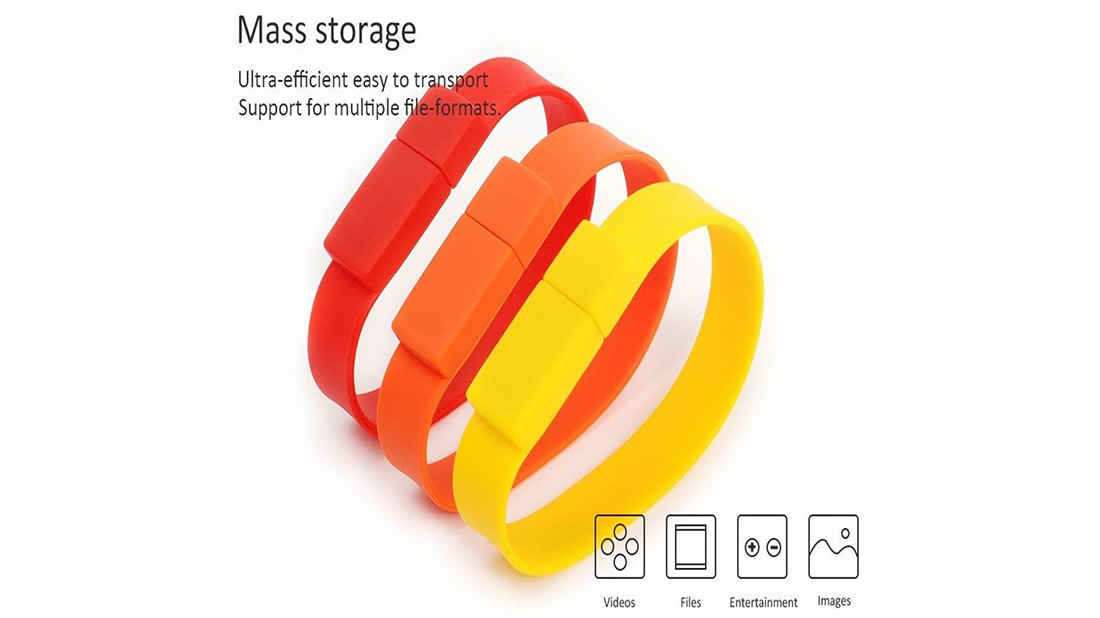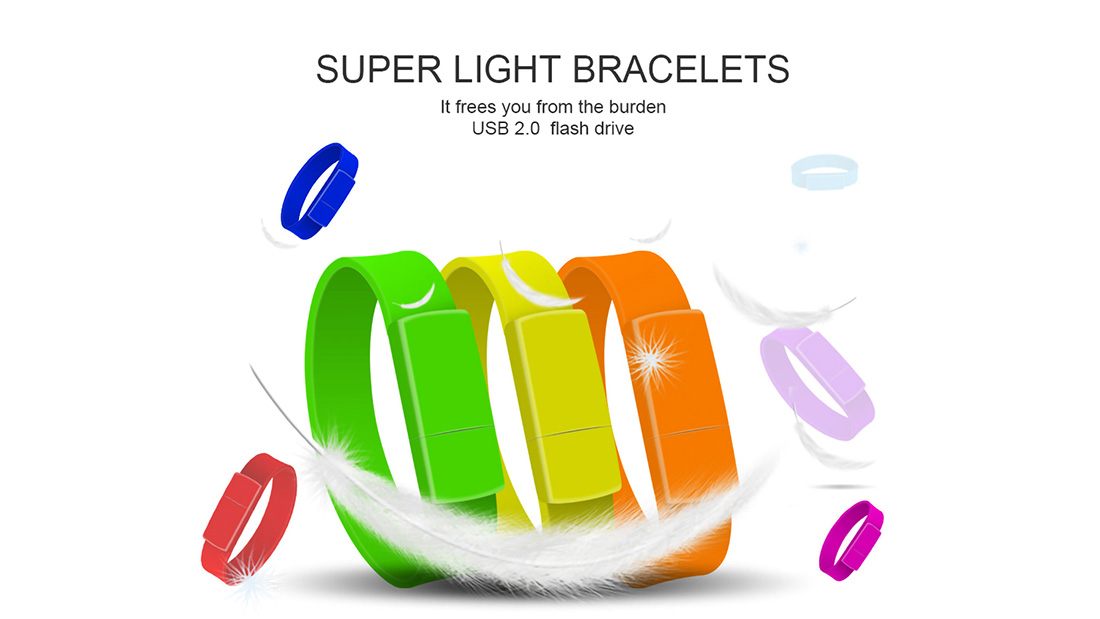 About this item
Support system: Computer Windows 7/8, Windows Vista, Windows 2000, Mac OS X, Linux and so on.
Valid Usage: USB flash drive is suitable for digital data storage, transferring and sharing. Plug into USB connector, then use. Keep your files safety, record memories of your time.
Universal Drives: This can be used in computer, TV, speaker, computer, notebook, car audio and other USB devices. Support PC Windows, Mac, Linux, etc. Save data of MP3, MP4, RMVB, EXCEL, WORD, PDF and other files.
Wristband Design: Bracelet jump drive with silicone circle wristband design. Connect two heads, then a USB bracelet is made. Soft touch feeling. Hide and protect the USB connector well. Portable and lightweight. Easy to use and carry. Good storage gift.
Operating temperatures: 32º F to 140º F (0º C to 60º C)
Storage temperatures: -4º F to 185º F (-20º C to 85º C)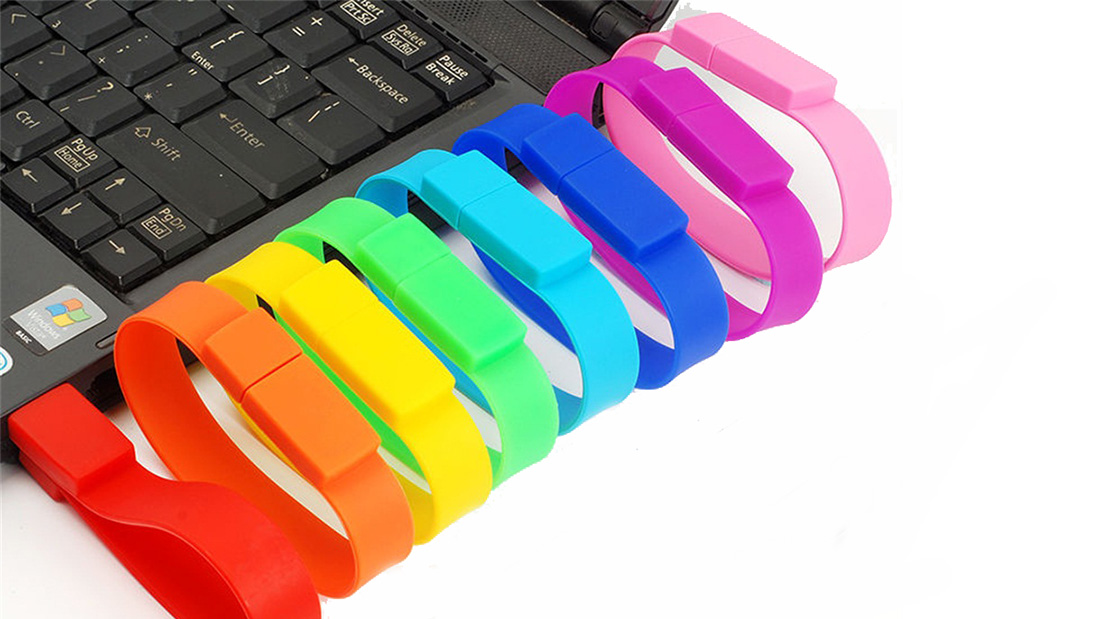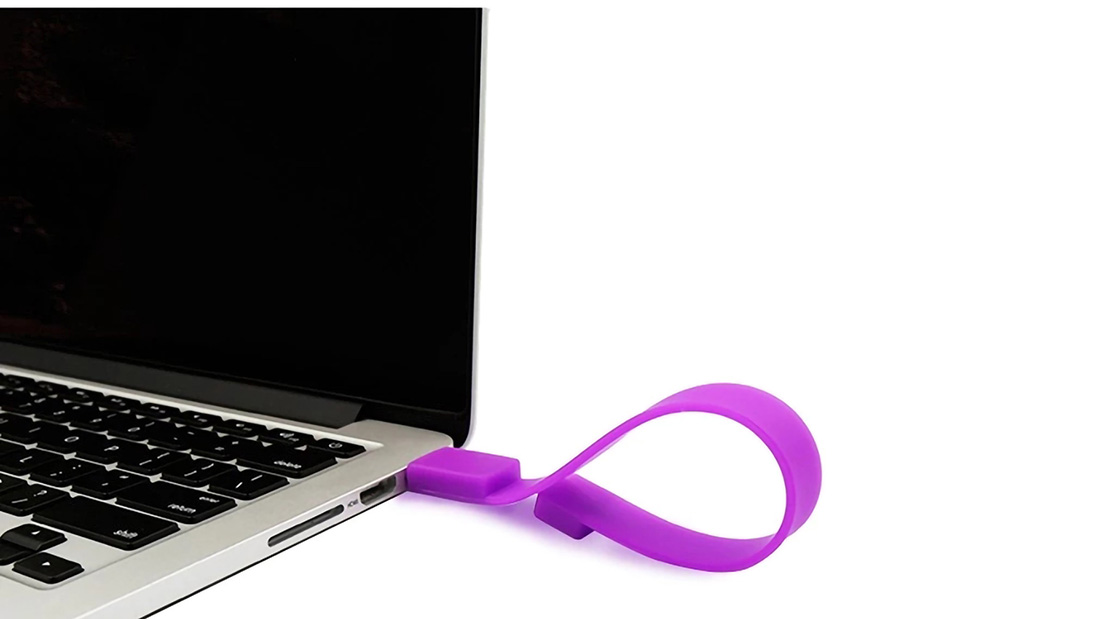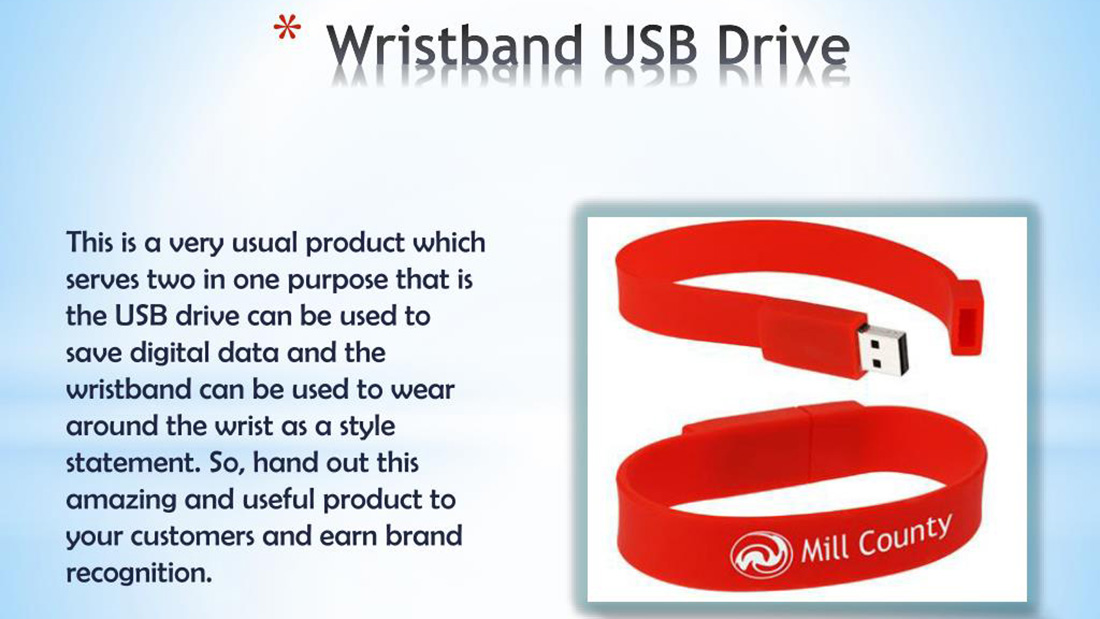 Recommend this wristband USB as a gift reason
The silicone wristband USB is perfect to carry your brand in a fashionable way, which is very popular among young audiences. The band is the perfect place to advertise your message and the fun novelty is the perfect excuse for your audience to wear your slogan. They are available in various sizes and colors. This wearable wristband flash drives allows you to keep your USB stick with you at all times. Wear your USB stick in style with our selection of wristbands.
Simple and easy to attach these flexible wristbands fit neatly on your wrist. Available in a range of standard styles. We can even offer custom sized wristbands so they fit a larger or smaller wrist. The range of colors on our wristbands is endless as they can even be pantone matched to nearly any colors of your choice. The flexible rubber surface on the USB wristbands offers a wealth of branding opportunities, as the can be custom printed, embossed with your logo and branding along the entire length of the wristband.