3 in 1 OTG USB Flash Drive Memory Stick Adapt Many Systems and Devices
Do you have a lot of photos and videos that cause insufficient RAM but don not want to delete. Use the OTG flash drive to give you more space and more freedom. No need to worry about your tight storage space anymore. The USB flash drive is equipped with USB 2.0 and Micro USB interfaces. Adapt to a variety of systems and devices. Only this one is needed for data transmission between most different devices.
Interface: USB 2.0.
USB Service Voltage: 4.5V-5.5V.
person person Choose us as your promotional gift supplier is the smartest decision you've made since we have supplied Gifts to 50+ famous brands worldwide, working with 37,000 customers in 20 countries.
Inquiry now
local_shipping Customize your logo for this product and promise to ship it within 7 working days.
3 in 1 OTG USB Flash Drive Description
The swivel OTG USB is a practical giveaway to get your brand into customer hands! It boasts an outer rubber coating with a rotating open metal cover. It transfers, stores and shares important files, photos and music on the go. There is no wire connection for the OTG USB - data is transmitted between the USB and smartphone. It can simply plug the micro pin into the smartphone and the USB drive will be automatically recognized showing a USB symbol in the right top corner. All files on the USB drive will be listed in the mounted folder; the files can then be opened directly on the smartphone. The OTG USB is available in a wide range of color options to compliment your brand.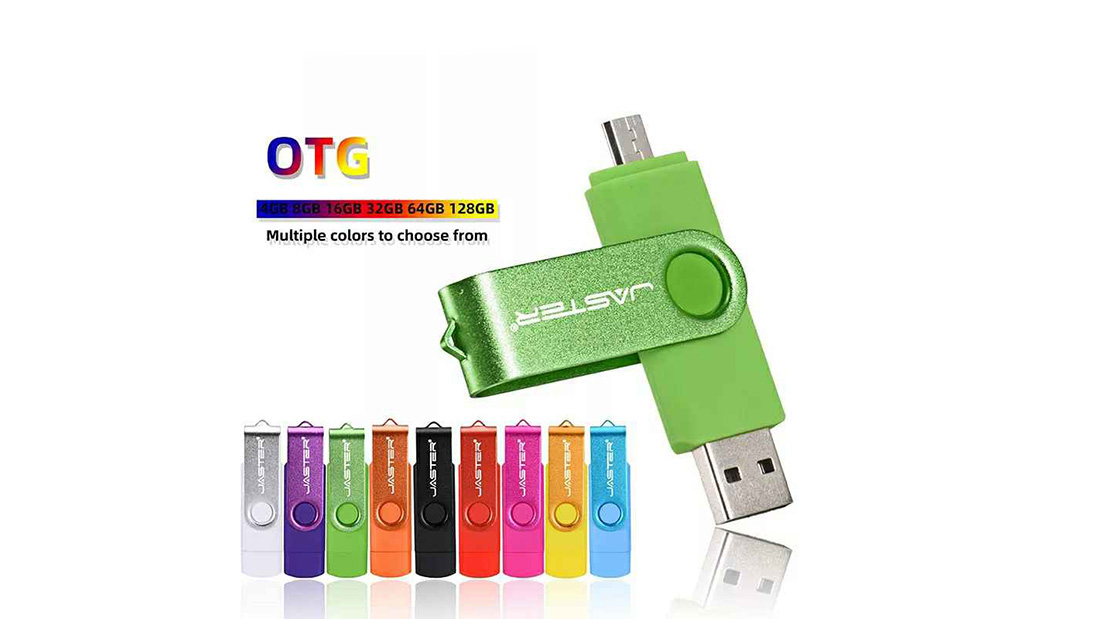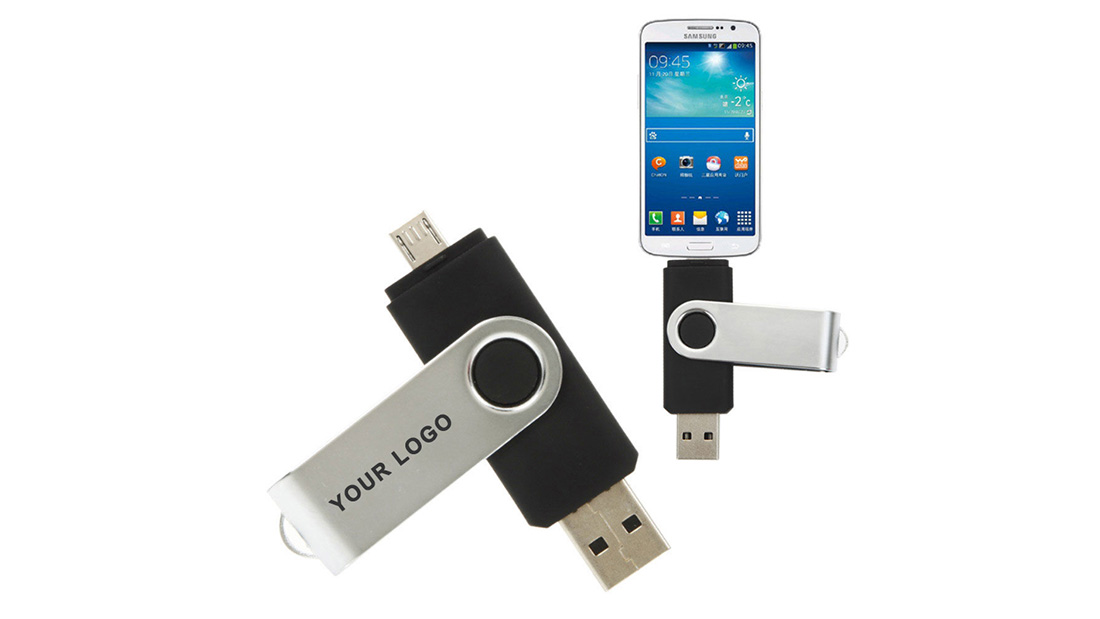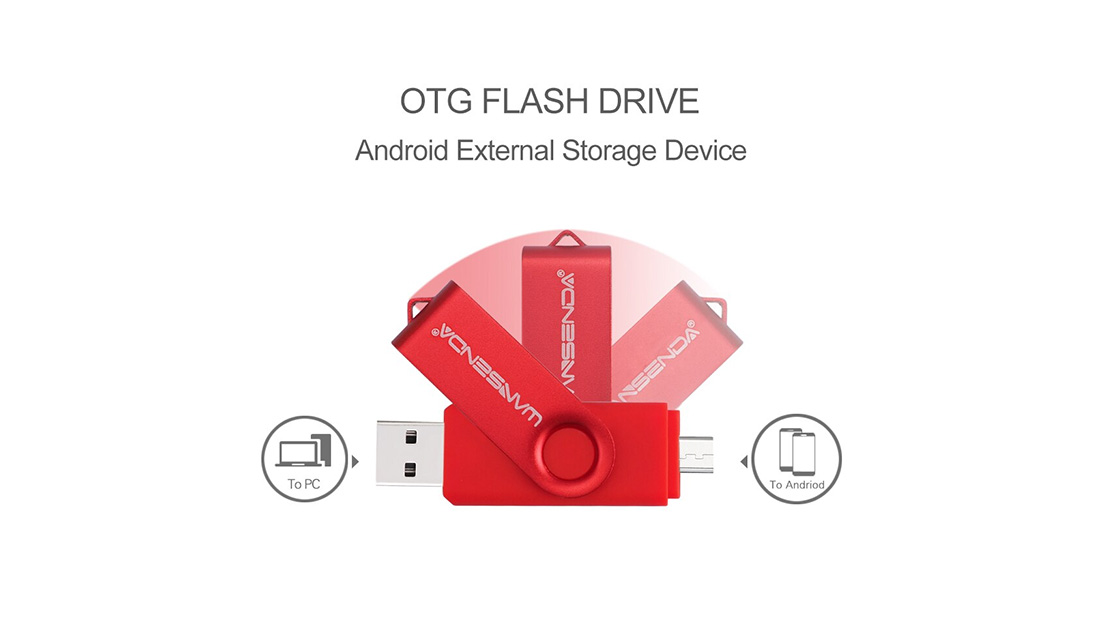 About this item
Two-in-one functions: OTG USB flash drive with micro-USB and USB 2.0 connector dual function, compatible with android smartphone and tablet PC with OS version 3.1 or higher. No software installation required, OTG pen drive can be used to transfer files to and from computer to your smartphone. Just plug and play.
Operating System: Win98/ME/2000/XP/ Vista/win7/win8 , Mac OS 9.X/Linux2.4 or above,android devices (OS version 3.1 or higher). Partial compatible devices: SAMSUNG Galaxy Note, Note 2, Note 3, Note 4, Tab 3, Tab 4, Nexus 10, S2, S3, S4, S5, Mega, Edge -- LG Nexus 5, G3, G2, Optimus G Pro -- Motorola Nexus 6, Moto X, Moto G, Moto Mini -- HTC One, M7, M8, Google Nexus 9 -- Asus Transformer T100, Memo Pad, Nexus -- HP Stream 7, Stream 8
Faster transfer speed: OTG USB jump drive used A-class chip to achieve high speed transfer performance, so you can immediately transfer files, photos, videos, music and more.
Stylish and stable design: Provide multiple fashionable colors for you to choose and the ultra small compact size with metal construction, water resistant and shock resistant design ensure the safety of OTG USB thumb drive,suit for various occasion such as daily life, business, travel, education etc.
Environment Temperature: -40°C - +70°C.
Storage Temperature: -50°C - +80°C.
Storage Lifetime: More than 10 years of durable data storage.
Use A-class chip, can be erased repeatedly for 100, 0000 times.
Easy to read and read in high speed, no need drive/power supply only plug in.
Solid State Storage, Shock proof and electromagnetic proof.
Hardware Requirement: PC with USB connection, Notebook, MAC.
Operating System: Win98/ME/2000/XP/ Vista/win7 /win8, Mac OS 9.X/Linux2.4 or above USB connection, support Hot plug & Play.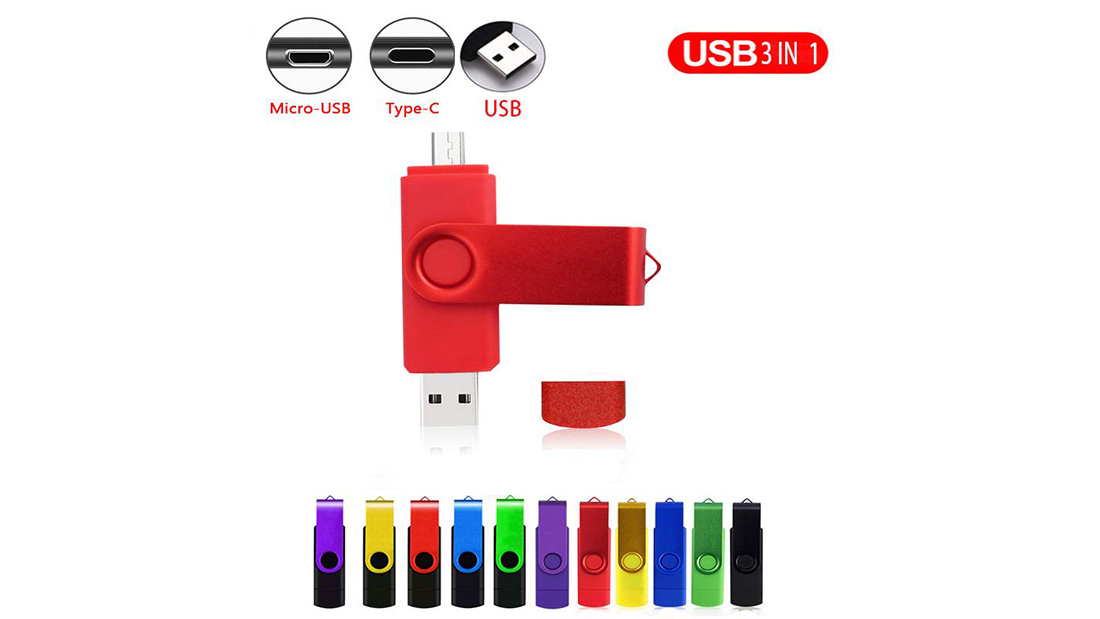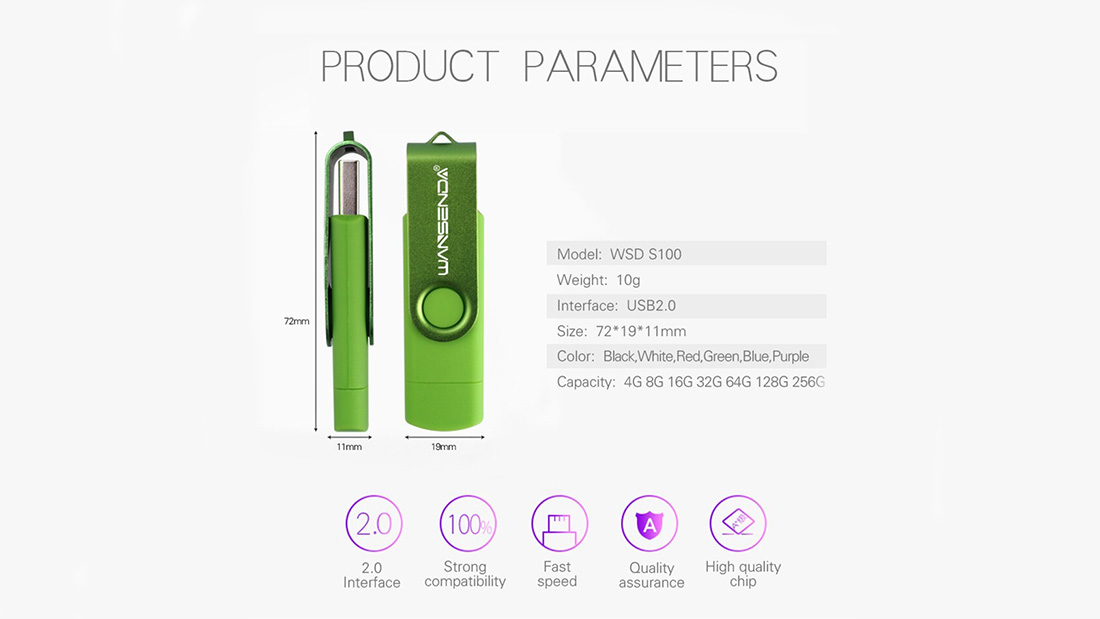 Recommend this OTG USB as a gift reason
The OTG USB flash drives have a quality internal Grade-A USB 2.0 (or 3.0 upon request) memory chip components. The swivel USB OTG is available in a range of standard trim colors and we can even pantone match them to a color of your choice. It have black, red, blue, green, white and yellow. The shell can also be personalized with a logo of your choice such as screen printing and laser engraving. The best-selling twister OTG USB drive can be integrated micro USB or type-c connector for your android phone. Hand out these OTG memory keys to enjoy great branding visibility at your next event.