FC Barcelona Silicone Bracelets Custom Silicone Wristbands To Promote Your Brand
Price Range $0.2-$0.8
A perfect gift to convey a message and inspire people. Custom silicone wristbands are a cool, low-cost promotional item often used for fundraising, causes, events, and charitable activities. Colored silicone ID bracelets are available as well. With custom imprinting, silicone wristbands can be crafted to suit any purpose. The FC Barcelona Silicone Bracelets are made from 100% silicone and are the best quality you will find. They are latex and lead-free, as well as SDS certified, so there are no safety concerns. The custom silicone Wristbands are also extremely durable and the football fans will wear the rubber bracelets for years without snapping or breaking.
Wristband Resources offers a variety of cheap ways in which to customize your own, one-of-a-kind silicone wristband. Personalized silicone bracelets allow you to create something unique, no matter the purpose or function. Whether it's for a cause, charity, fundraiser, or event - you can be sure we have the customization options you need to make perfect bracelets.
The most important is the brand design/color match/logo printing quality.
person person Choose us as your promotional gift supplier is the smartest decision you've made since we have supplied Gifts to 50+ famous brands worldwide, working with 37,000 customers in 20 countries.
Inquiry now
local_shipping Customize your logo for this product and promise to ship it within 7 working days.
FC Barcelona Silicone Bracelets Features
1. Quickly & Easily Customize Your Personalized silicone bracelets With Tons Of Colors & Font Styles For Reminders, Motivation & Inspiration: Keep your brand or message at the forefront with Custom silicone wristbands that are eye-catching conversation-starters. Gift-Supplier has been trusted as the premium rubber bracelets company with unsurpassed quality since 2008.
2. Create Memorable & Impactful Custom Messaging For Support, Causes, Fundraisers, Promotions, Parties, Awareness, Motivational Quotes, Couples, Gifts, Organization & Company Events, Party Favors, Birthdays, Classroom Goodie Bags & Fillers, Prizes, Sports & more. PLUS, the FC Barcelona Silicone Bracelets are often used as ID bracelets. LOADS of color options for any occasion, school, birthday, memorial, awareness, or to fit your brand.
3. Dare To Stand Out With Powerful Eye-catching Colors That Instantly Dazzle & Fit Perfectly: We allow up to 25 characters for the customization, however, shorter phrases will allow for a larger imprint size on the Custom silicone wristbands.
4. We Make Sure Your Message Never Fades With Laser Engraving: safe, waterproof, high quality, durable, latex-free, hypoallergenic, 100% silicone bands customized right here in China.
5. Widely Used: Custom silicone wristbands support double-sided engraved, an ideal gift for birthdays, weddings, baby showers, fitness, sports, game, organization, company events, fundraising, or any other anniversary party.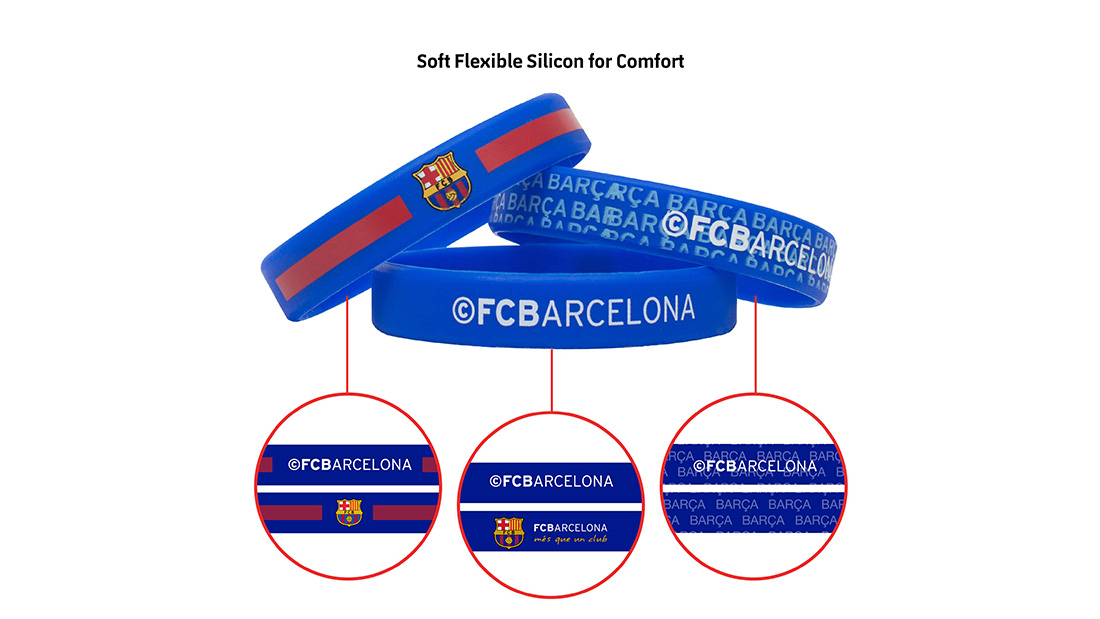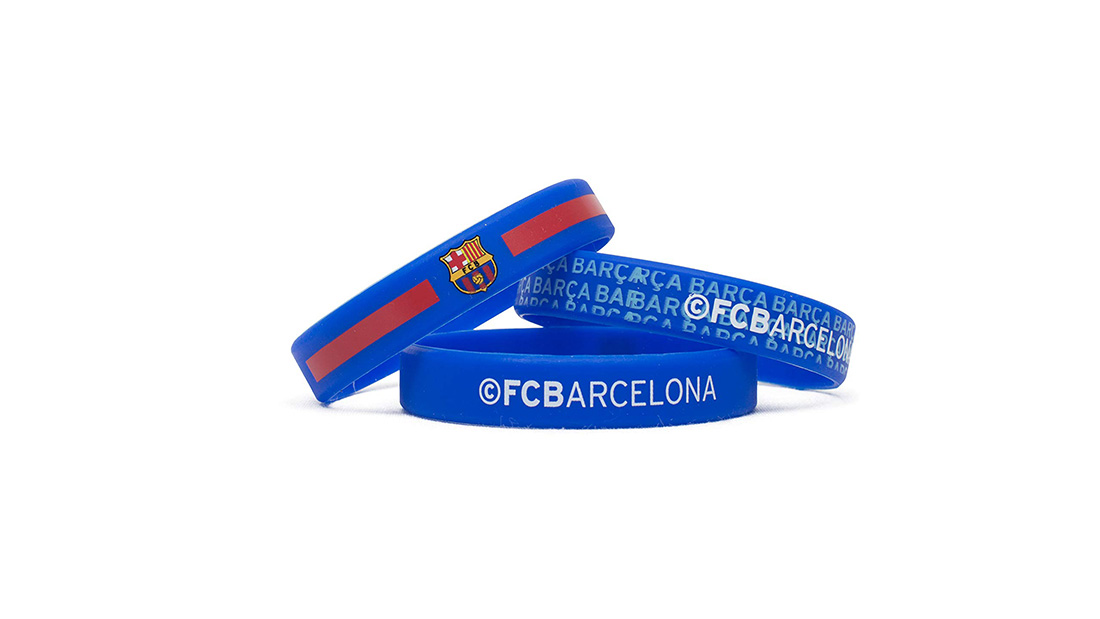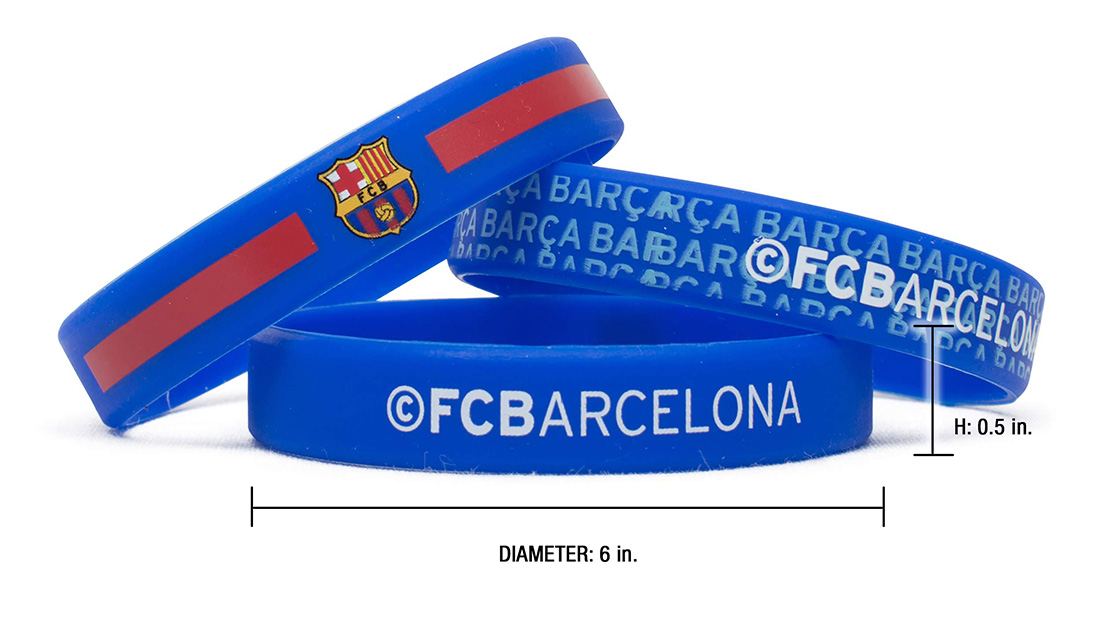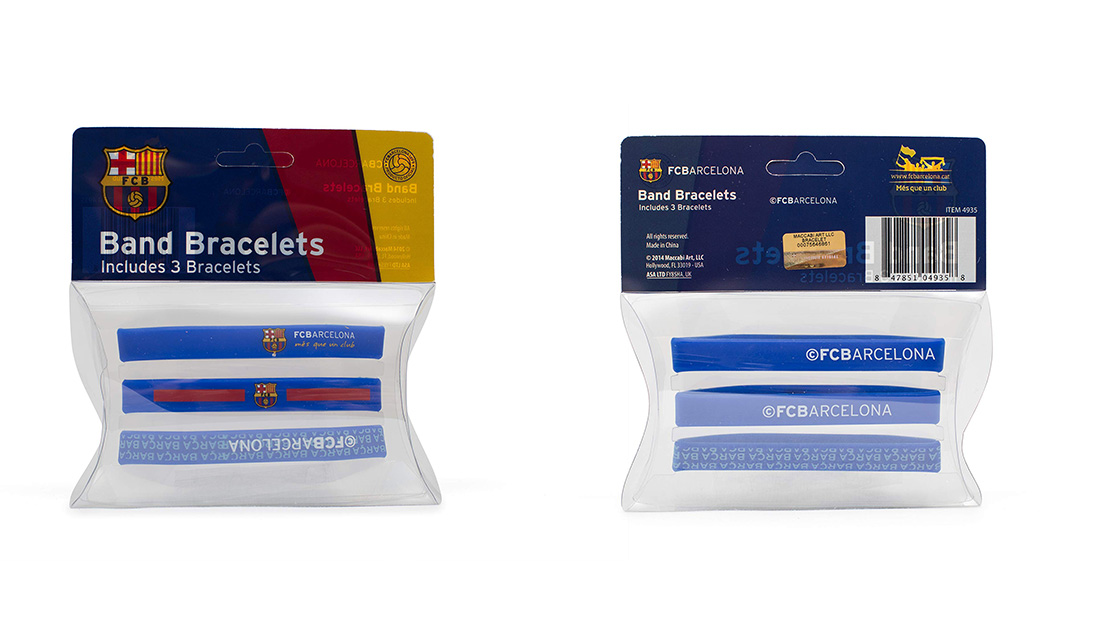 Frequent Asked Questions For Custom Silicone Wristbands:
Q1: What are silicone bracelets used for?
A1: Silicone bracelets are used to raise money and awareness, advertise and promote, memorialize, gift give, and more. Silicone wristbands are customizable which allows for endless possibilities on how they can be used.
Q2: Are rubber wristbands recyclable?
A2: YES! Rubber wristbands (also known as silicone wristbands or armbands) use silicone. Silicone comes in two grades- food and medical, both of which can be recycled where facilities exist.
Q3: How do you make a rubber band bracelet?
A3: Rubber band bracelets, known universally as silicone wristbands, are made using molds and/or machines that imprint the customer's cool, colored design or logo, directly onto the surface of the band. You can customize your own rubber bracelet just by sending us an email!
Q4: Are silicone wristbands safe? Do they have latex?
A4: Yes! Silicone wristbands are made from 100% silicone and are lead & latex-free. This makes them a preferred, safe choice for those with sensitive skin or allergies.
Q5: Can you stretch silicone bracelets?
A5: Silicone wristbands are strong and flexible enough that they can be moderately stretched and not snap or break, as well as resilient enough to return back to their original shape.
Q6: Can silicone bracelets get wet?
A6: Yes! Silicone is 100% waterproof so the bands can get wet and will remain usable/wearable.
Q7: How do you print on silicone wristbands?
A7: Our silicone wristbands are printed using silk-screen technology; the ink is applied directly to the surface of the band, resulting in a smooth, sleek design. We also do UV printing on the custom silicone wristbands.