Customized Logo Portable Handheld fogger disinfection machine
Product Color: White
Atomization Level: Nano scale
Material: ABS
Tank Capacity: 250ml
Power Source: Battery Powered 1500mAh
Rated Voltage: 110-240V
Rated Power: 13W
Power Supply Voltage: DC3.7V
Spray Distance: 2.0-2.5 Meters
Charging Time: 4-5 Hours
Usage Time: 1.5-2 Hours
Charging by: PC, Adaptor, Power bank
Charging interface: USB
Size: 18.3x16x4.8cm/7.2x6.3x1.89 inches
OEM/ODM Service: Available
person person Choose us as your promotional gift supplier is the smartest decision you've made since we have supplied Gifts to 50+ famous brands worldwide, working with 37,000 customers in 20 countries.
Inquiry now
local_shipping Customize your logo for this product and promise to ship it within 7 working days.
Fogger Disinfection Machine Description
This fogger disinfection machine combines Nano atomization technology. It has fast atomization speed and can spray a large amount of fog. The body of this device is intelligently designed with cooling holes to rapidly dissipate of the heat for a longer service life.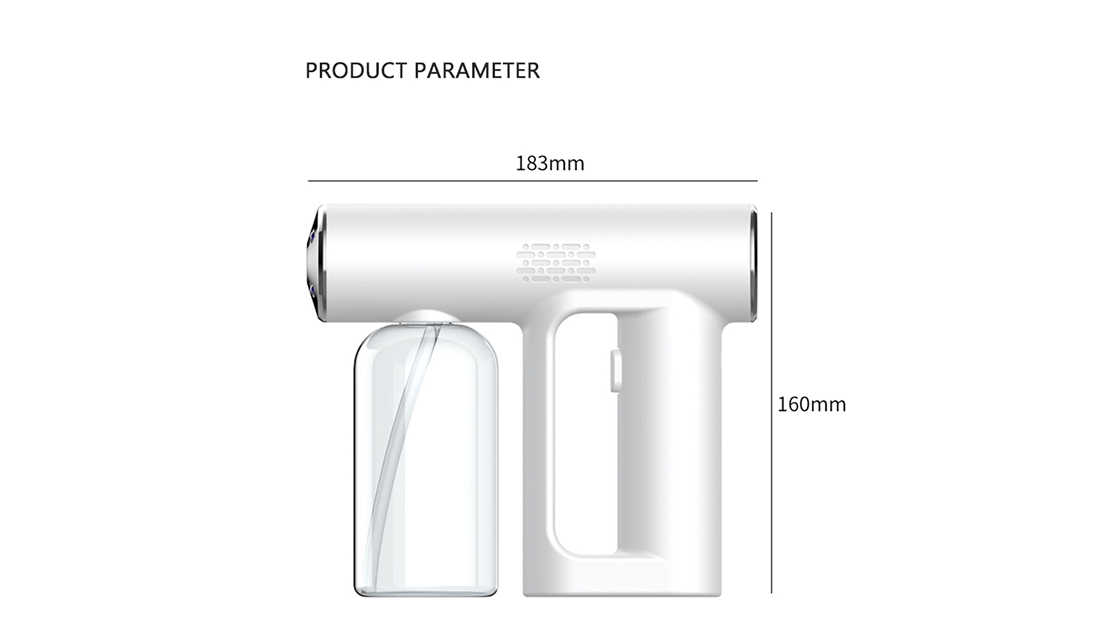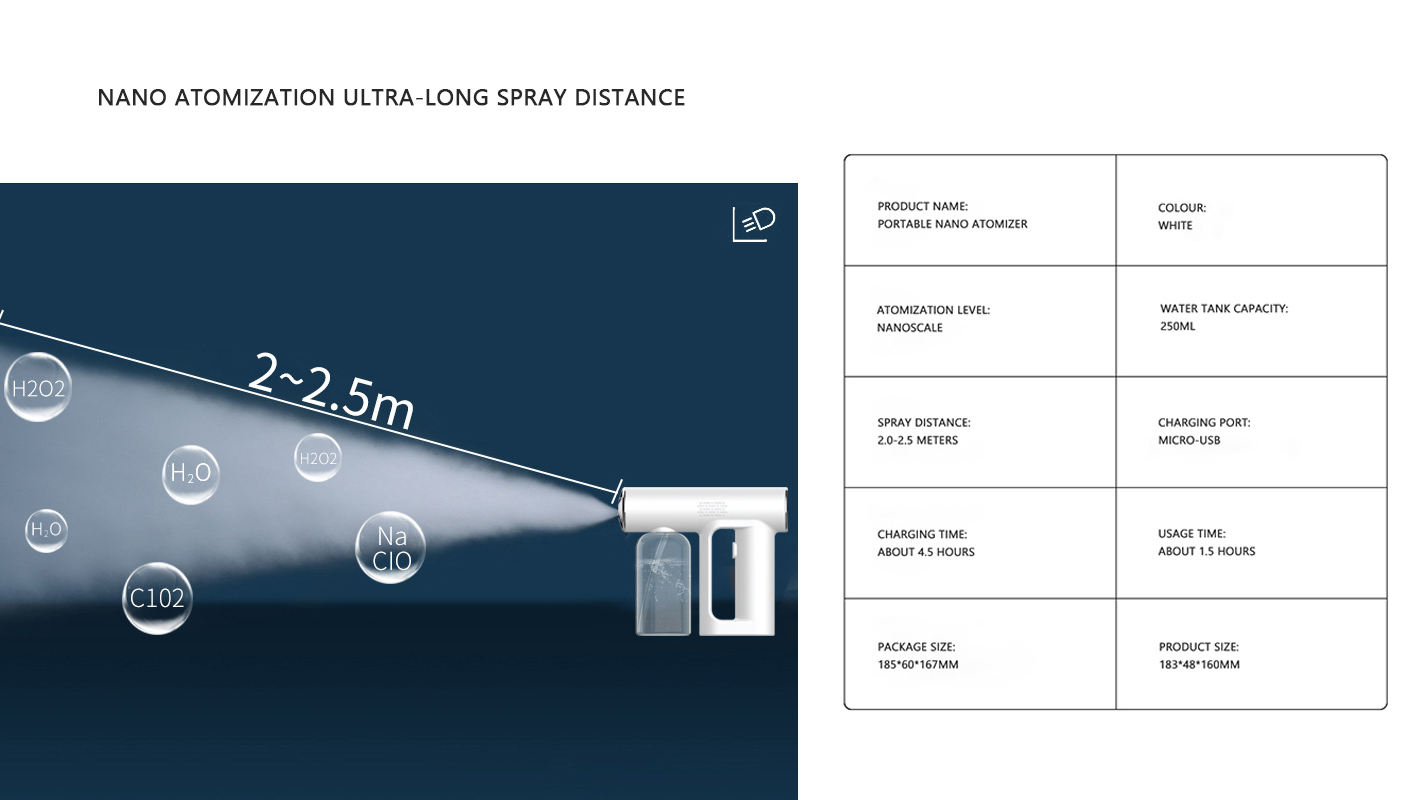 High Lights
l The fog machine produces dry and small molecules of mist to eliminate smells of smoke, purify the room, move pet odor and smells in your car. Improve the overall quality of the air in your environment and enjoy fresh and healthy air
l The normal design of temperature atomization is safer than high-temperature atomization.
l Not only does the mist sprayer make the liquid medicine ingredients more effective, but it also prevents the generation of harmful gases.
l Disinfectant spray machine the compact body allows you to feel comfortable with the ergonomic design of the handle anywhere, easy to carry. Low temperature atomization design. No preheating, fast spraying.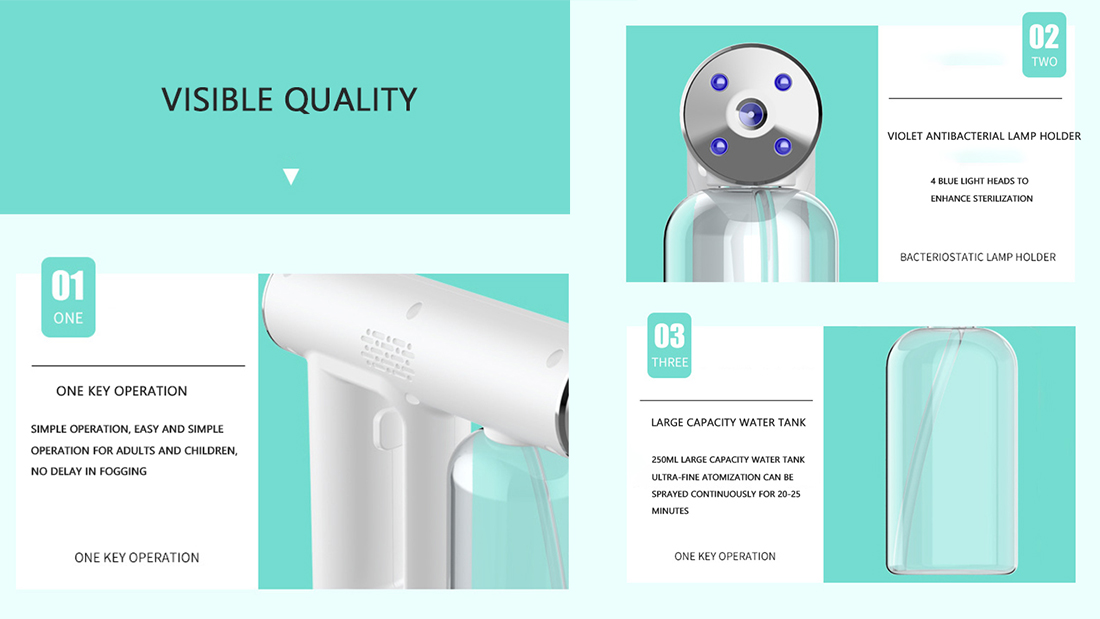 More details
High-Quality Nano Spray Port, Use ABS Heat Resistant Material, Fast Fogging, Large Amount of Mist
Porous Heat Dissipation, the Device Releases A Large Amount of Nano-Spray While the Hull Intelligent Heat Dissipation.
Adjust the Quantity of Fog According to the Softness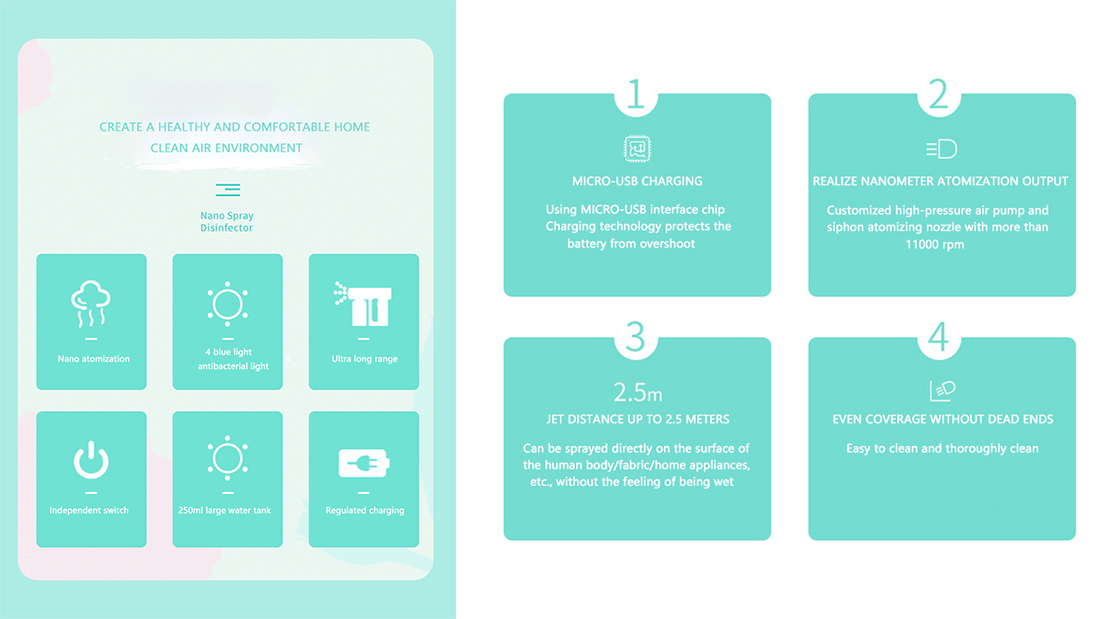 How to Use
After charging, press the switch button and the machine will atomize automatically. Meanwhile the disinfection lamp will be working. Press switch again, stop atomizing and lights turn off.
Charging: indicator shows red light.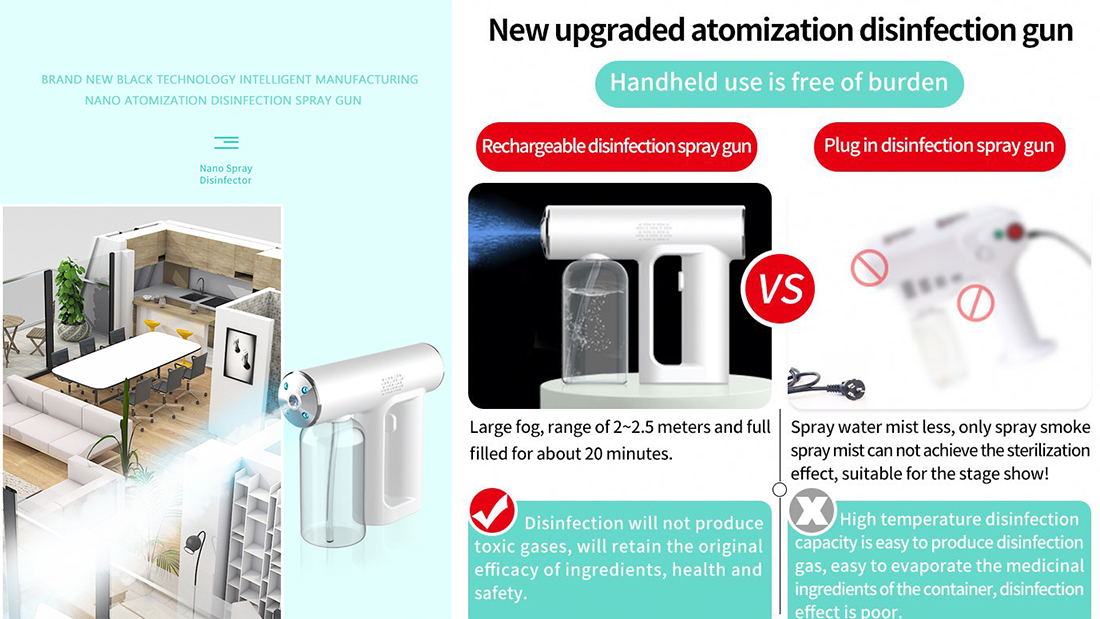 Uses for
In addition to disinfecting and removing odors in homes, schools, companies, transportation, etc. You can also add other liquids to the spray bottle for garden plants. Besides, it can also be used in salons, effective for hair moisturizing and care.
Country of Origin from China
Standard Production Schedule
Artwork: 2 days
Production: 10-15 days
"Need to ship earlier? Please contact us!
Free proof of your logo included with every order!
*Approve logo proof within 24 hours to meet Ships By date.*"
Packaging Options
Standard: White gift box/Customized box available
Custom: Available
Frequently Asked Questions
Q: Can I have my own logo on the product?
A: Definitely, you may send us your brand and let us help you to place the logo on the product! It would be our pleasure to see your brand on the product!
Q: Do you provide sample before mass production?
A: Yes, definitely. We provide sample for confirmation before mass production. For samples with your brand, we will charge for the printing cost. For sample without logo, we can offer free sample after company verification.
Q: Do you offer free samples?
A: For sample without logo, we can offer free sample after company verification.