High Quality Multifunctional Music Bluetooth Speaker with Bluetooth 5.0
It's compact and upright design positions your device in a comfortable viewing angle so you can stream and chat as it charges. The stylish design fits into any home, office or business setting environment.
Product Size: 6.45 x 2.4 x 0.39inch
Product Weight: 600g
Bluetooth Version: Bluetooth 5.0+EDR
Output Power: Stereo 4R/3W*2
Battery Capacity: 18650*1/2000mAh
Music Time: 5H (80% volume)
person person Choose us as your promotional gift supplier is the smartest decision you've made since we have supplied Gifts to 50+ famous brands worldwide, working with 37,000 customers in 20 countries.
Inquiry now
local_shipping Customize your logo for this product and promise to ship it within 7 working days.
Bluetooth Speaker with Bluetooth 5.0 Description
The wireless charging power bank stand and Bluetooth speaker delivers premium sound with built in power! The 3W speaker driver of the Bluetooth speaker provide enough volume to be heard across the room. While you're playing your favorite audio or watching a movie place your phone on the front of the speaker and tap the front panel to deliver a wireless charge to your device. Please note your phone must be compatible with wireless charging. The wireless charging power bank also has a built in USB output to provide a charge to your device with the correct cable. Included with the Speaker is a 20" micro USB Cable. The built in microphone and music controls allow you to use the speaker for conference calls or video calls.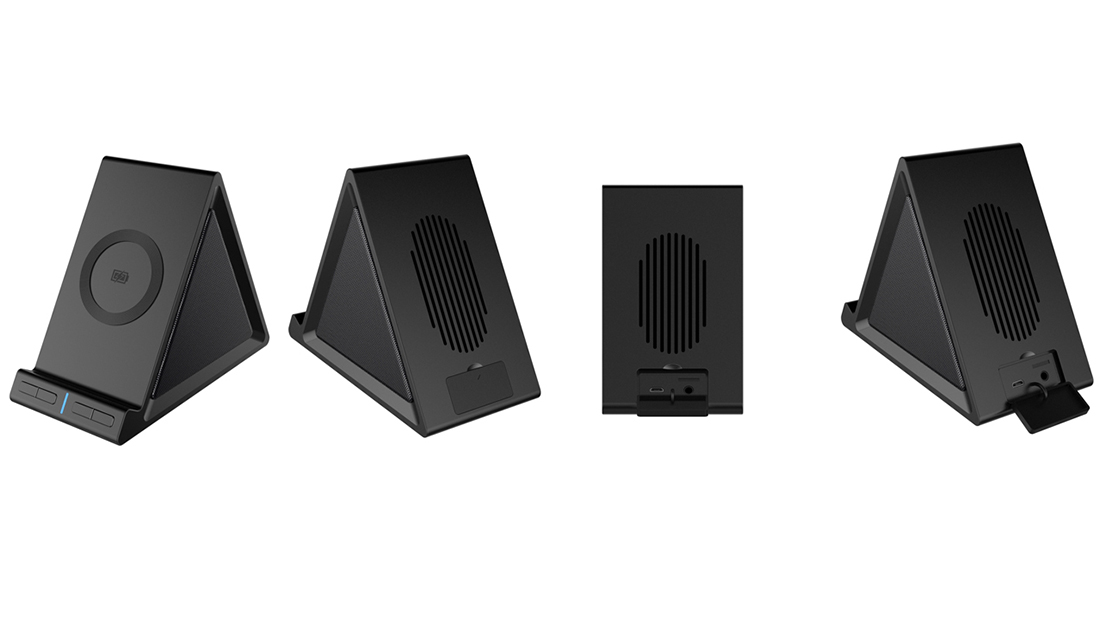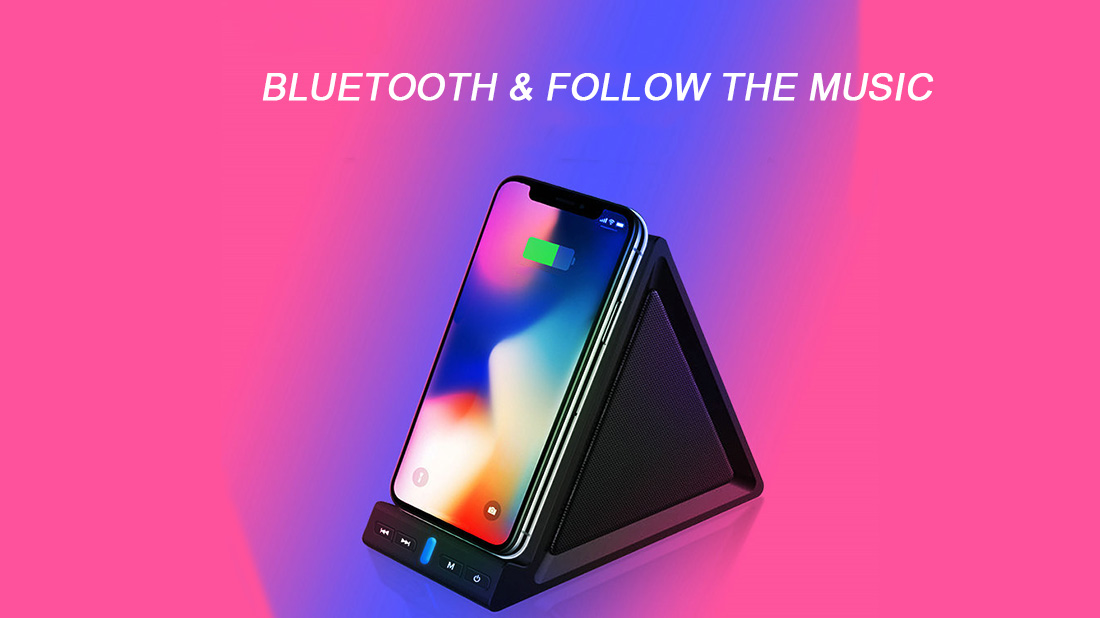 About this item
Fast wireless charger: 3 vertical charging coils allows for portrait or horizontal charging. Two rear USB charging ports for non-Qi compatible phones, you can charge different device at the same time.
Compatible phone model: iPhone 11, 11 MAX, 11 MAX PRO, XS, XS Max, XR, 8,8 Plus, X, Samsung GalaxyS20, S20+, S10, S10+, S9, S9 +, Note 8, S8, S8 +, S7, S7 Edge, Note 5, S6, S6 Edge, LG V30 and G6 and more.
Bluetooth speaker: It is an exceptional dual-Bluetooth speaker system with 5 Watts of premium HD sound. The built-in microphone allows it to be used as a speakerphone.
Hands free call: answer incoming call easily. Upright view angle perfectly fit for your eyes while charging.
Input: USB DC-5V/2A
Charging Time: 2 hours
Input: 5V/2A
Output: 5W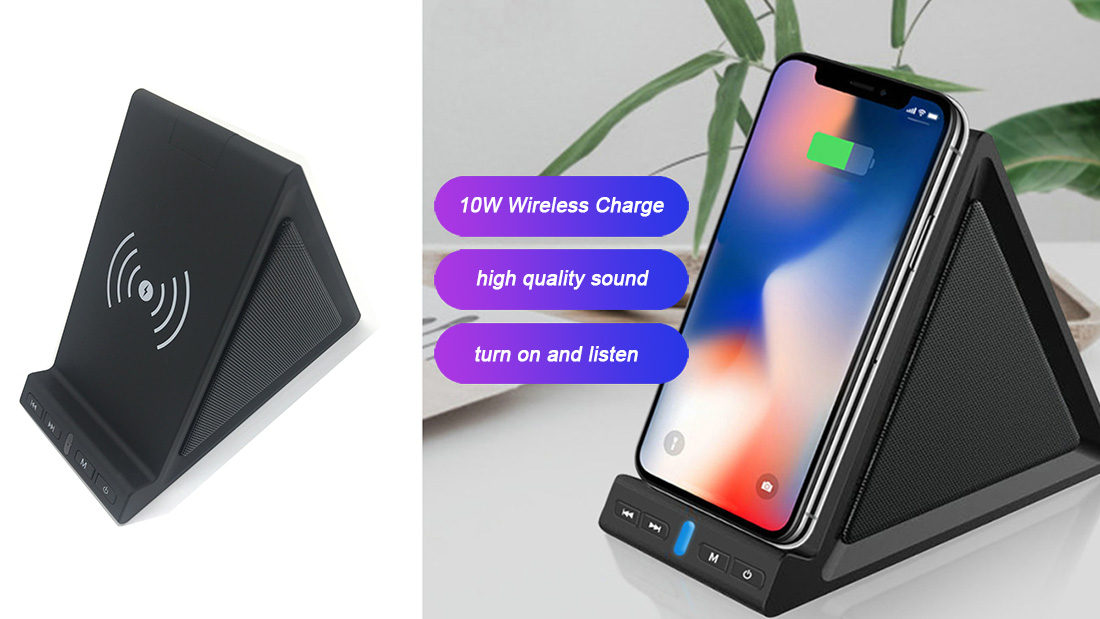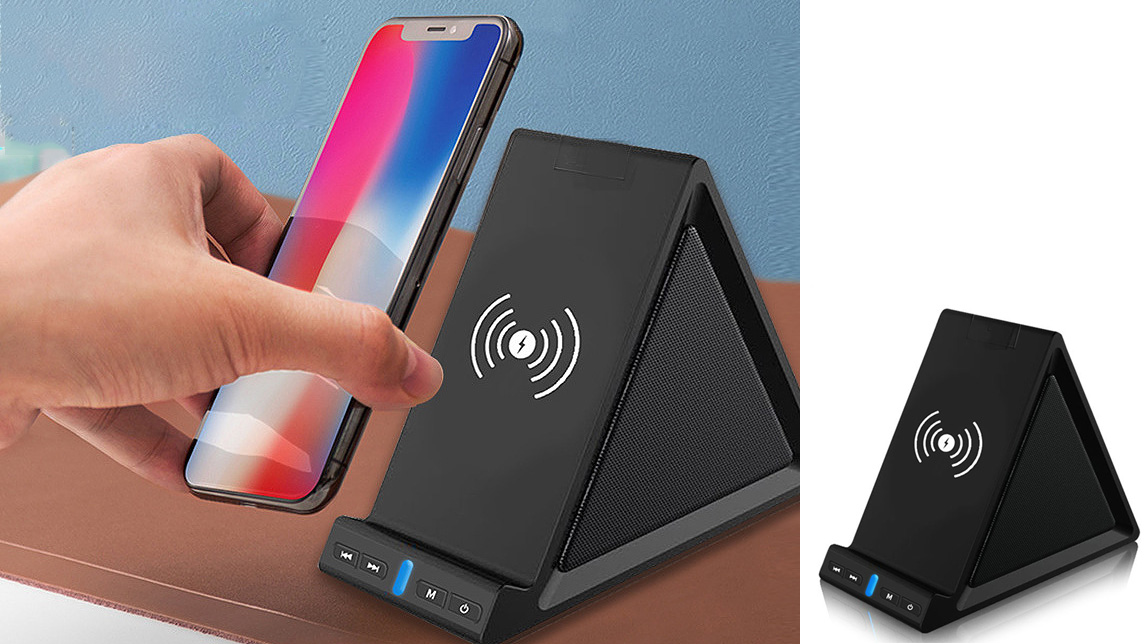 Recommend this Bluetooth speaker as a gift reason
For a lot of people, the Bluetooth is the next evolutionary step in mobile phone technology: a phone that you stick in your ear. Of course, there are also obvious drawbacks to the technology. For one thing, it makes group phone calls more difficult. You used to be able to simply switch your device to speaker-phone mode and then everyone in the room could hear and interact with the call. If you did that now, it would translate as a voice screaming out of your ear, while everyone in the room would be leaning forward to shout their answers back into your ear. What you need is an external speaker.
How many times has a private conversation with a client, co-worker, or vendor turned into a conference call? Normally, a conference call involves putting one person on hold while you connect with a third person. But sometimes you are in the middle of a discussion when someone walks past your cubicle whom you realize has some insight into the current project. For those spontaneously-generated conference calls, you will just switch your phone to its speaker.