copy of Proveedor de China de regalo de cubo de Rubik de foto personalizada 5x5
El cubo de Rubik personalizado agregará un toque de diversión clásica a su próxima campaña promocional o publicitaria con el atractivo nostálgico y las horas de diversión que todos recuerdan. Este cubo de 5x5 no escatima en su impacto promocional con una marca de impresión total en cuatro paneles y una opción de marca por panel.
¡Los cubos de fotos giratorios en 3D se pueden usar como múltiples marcos para crear interesantes collages de fotos! Cada rotación del Cubo de Rubik trae romance y sorpresas. El cubo de Rubik 5X5 es ideal para la decoración personalizada del hogar.
Colores del producto: Cubo de fotos personalizado
Tamaño: 5x5cm
Producto: Cubo de Rubik 5x5 online
Material: plástico ABS
Peso del artículo: 105g
Proceso de impresión: tintas/pegatinas impresas con UV
person person Elegirnos como su proveedor de regalos promocionales es la decisión más inteligente que ha tomado desde que hemos suministrado regalos a más de 50 marcas famosas en todo el mundo, trabajando con 37 000 clientes en 20 países.

No hay formularios de contacto disponibles
local_shipping Personalice su logotipo para este producto y prometa enviarlo dentro de los 7 días hábiles.
Custom 5x5 Rubik's Cube Gift Description
The Custom Photo Rubik's Cube is a great promotional idea. The 5x5 Rubik's cube can do custom printed. They are a sure way to keep your logo in the hands of your clients and prospects. Our promotional Rubik's Cube comes in a wide variety of styles, to fit every budget. Customized brand service available!
High Lights
l Personalized Home Decoration: If you are tired of all these boring and monotonous photo frames, please try this puzzle and interesting photo frame. The 3D rotatable Photo Cubes can be used as multiple frames to create interesting photo collages! Every rotation of the Rubik's Cube brings romance and surprises.
l The Personalized Rubik's Cubes are fantastic gifts for family and friends who want to showcase their favorite photos in a unique way. Customers will be able to design their very own completely custom version of this classic and unique photo puzzle. Our puzzle cubes are also a great handout item. They're a fun, unique, and budget-friendly way to display your logo.
l The perfect puzzle and creative gift: This simple picture Rubik's cube is unique and personalized. It can be carved into an exclusive Rubik's toy, animal patterns, character photos, and landscapes, and is for children, wives, husbands, girlfriends, boyfriends, family members, and friends The best gift.
l A bridge for Communication Between People: Choose photo puzzle pieces with stories, increase the time to spend with friends, children, and lovers every day, strengthen communication and collaboration skills, and shorten the distance between friends, lovers, and children in the game.
l Solid ABS plastic, safe, non-toxic. Harmless to humans and the environment
l Wear-resistant and durable
l The 5 by 5 Rubik's cube online fully provides maximum customization
Other Details:
There are many benefits in learning something new and in this case, there are many benefits in learning how to solve the cube:
l Improves your concentrations
l Improve the hand-eye combination
l Improves spatial thinking and increases the IQ level.
l Improve overall cognitive skills
l Keep the mind sharp in old age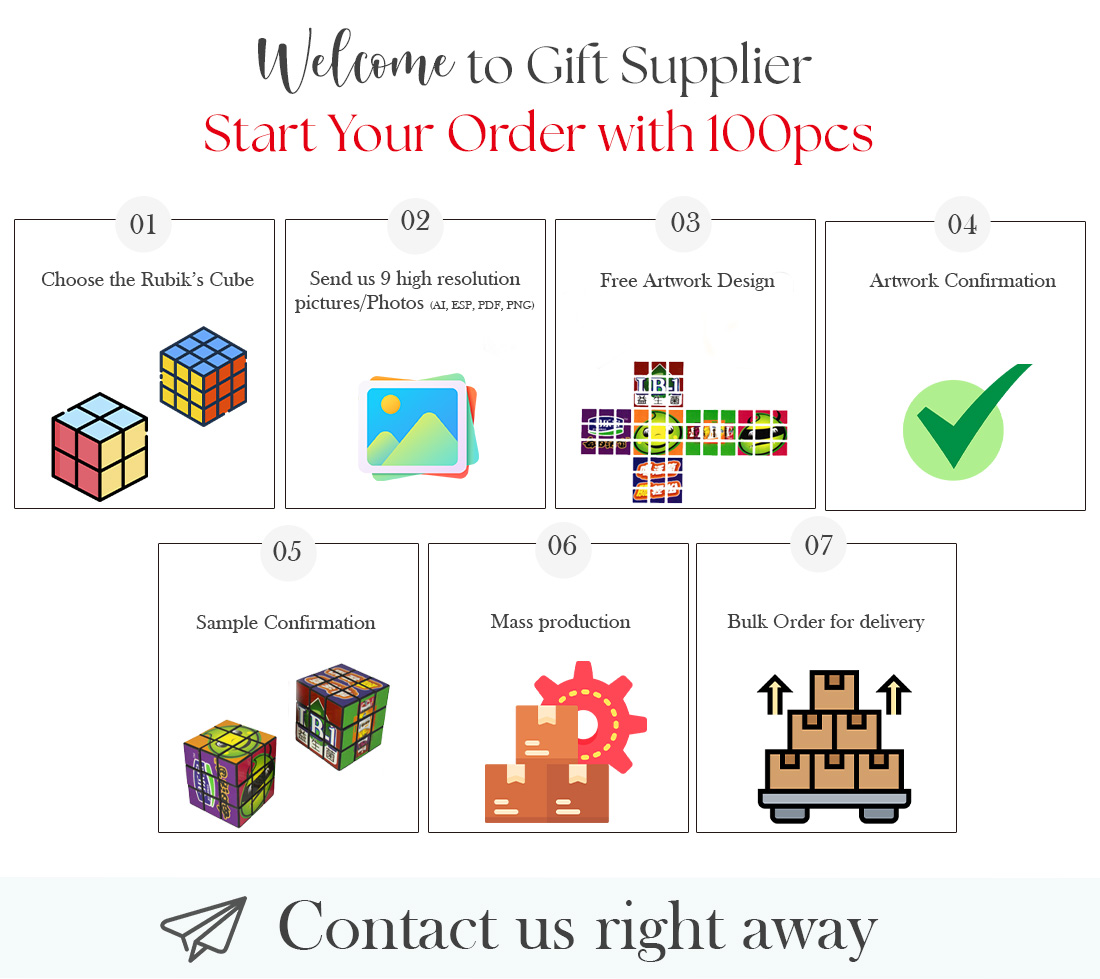 Uses for
These custom photo Rubik's cube will take a fun puzzle game for adults and teenagers with excitement and thrill, its compact size is convenient for you to carry and play at any time and any place. Ideal birthday and holiday gifts (Christmas, Thanksgiving, Halloween, Children's Day, etc.) for boys, girls, teenagers, adults, and elders, for beginners and professionals.
Imprint Location: All sides
Imprint Color: Varies by Design
QTY: 1pc/box or Customized as per request
Minimum Order Quantity: 100pcs/design
OEM/ODM Service: Available
Country of Origin: China
Standard Production Schedule
Artwork: 3 days
Production: 12-15 days
Need to ship earlier? Please contact us!
Free proof of your logo is included with every order!
*Approve logo proof within 24 hours to meet Ships By date.*
Packaging Options
Standard: Gift box
Custom: Available
Accessories: Gift Box
Frequently Asked Questions
Q: What Is a Magic Cube?
A: A magic cube is one of the puzzle cubes where you can solve it with tricks and print anything on it and in any size.
Q: Where To Buy a Rubik's Cube?
A: If you don't want to compromise with the quality at a very affordable price, then buy Rubik's speed cube from Gift-supplier.
Q: Can I customize the 2x2 Rubik's cube simulator?
A: Yes, the Rubik's cube gifts and package all can be customized as requested.
Q: How To Make a Custom Rubik's Cube?
A: The process is so simple. Please email us 6 photos or pictures and we will prepare you a free artwork for confirmation. Once you confirm the artwork, we can go directly for sampling.
Q: How long will it take to make customized photo Rubik's cubes?
A: It will take 5-7 days for the customization for the custom Rubik's cubes.
Q: What's your production lead time?
A: Normally the production lead time is 12~15 days after the order is confirmed. If it's an urgent order, please make contact and we will do our best to help you!
Q: Will you help us to arrange the delivery?
A: Definitely, we can arrange the delivery by express or by Air or Ocean. All the delivery will be door to door including tax. It's a hassle free service from Gift-Supplier.
Q: Why choose the Rubik cube as a promotional gift?
A: Personalize a Rubik's Cube in varied sizes and pieces and print your brand's logo, product picture, tagline, and marketing punchline on it. Get it for yourself or gift it to your employees, distributor or any other businessperson and expand your reach. People will keep the gift for long term basis because it's cute, fun and can help people to get relax.