Personalized iPhone Chargers and 15W Wireless Power Combo
Introducing our dynamic range of custom wireless charging solutions, which includes personalized 15W iPhone chargers. These high-quality, customizable chargers not only offer lightning-fast charging but also serve as a powerful branding tool. Whether you're gifting these custom iPhone chargers or using them for promotional purposes, they make a lasting impression. Keep your clients or employees connected and charged in style, all while boosting your brand's visibility. With the 15W wireless power, you're ensured rapid and efficient charging for various devices. Elevate your promotional game with these versatile and stylish charging solutions, where power meets personalization and brand enhancement.
person person Choose us as your promotional gift supplier is the smartest decision you've made since we have supplied Gifts to 50+ famous brands worldwide, working with 37,000 customers in 20 countries.
Inquiry now
local_shipping Customize your logo for this product and promise to ship it within 7 working days.
Custom wireless charging Description:
l Powerful Coil & Faster Charging: Designed with a robust charging coil, it could identify your smartphones sensitively and charge your device much faster. The fast custom iPhone chargers with built-in upgraded charging coils make it charge 75% faster than the ordinary wireless charger.
l latest Qi New 15w wireless charger: The custom iPhone chargers come to the rescue with its latest Qi wireless charger! Bringing you a taste of what charging will be like in the near future, the 15w wireless charger allows you to charge your smartphone by simply laying it down!
l Intelligent protect technology: The 15w wireless charger's built-in smart chip can automatically detect the best charging speed for your phones—multiple intelligent security protections to keep you and your devices safe.
l Slim and Cool Design: Lightweight, sleek, compact design with non-slip rubber. This custom iPhone charger is super slim and takes up very little space making it easier to put it in pockets, a high-speed wireless charger can be easily carried during travel or business, This 15w wireless charger feels solid and looks great no matter what using it is in the office or at home.
l Smart indicator: When the power is on, the indicator light will be turned on the green light for 20 seconds and automatically turn off If the charging device is not detected in 20 seconds, In standby, When you put your mobile phone or earbuds on to charge. The weak blue light flashes slowly until it is fully charged. The soft light will not affect your sleep
l Wonderful New 15w wireless charger Promotion Gift: The 15w wireless charger is an exclusively designed Qi Wireless Charger featuring a perfect housing with big space and an ultra-lightweight design, which allows your customer to easily carry and display it along with your full-color, edge-to-edge printed logo, slogan, or tagline.
Wireless charger Specifications:
Type: Electric, USB Wall Charger, Wireless Charging Function, Power Adapter, Universal Adapter, Car Charger, 3 in 1 Wireless Charging Station, Magnetic
Application: Household Appliances
Material: PC fireproof material, ABS
Function: QC2.0, Qc1.0, QC3.0, PD/Pengdu, QC4.0+, PD 3.0, VOOC 2.0, VOOC 4.0, FCP
Port: Type-C
Input voltage/current: 9V/2A, 9V/1.67A, 5V/2A
Output voltage/current: 9V/1.2A, 5.1V/2A, 5V/2A
Rated power: 3W, 7W, 5, 15W, 10
How to do customization on the custom iPhone chargers :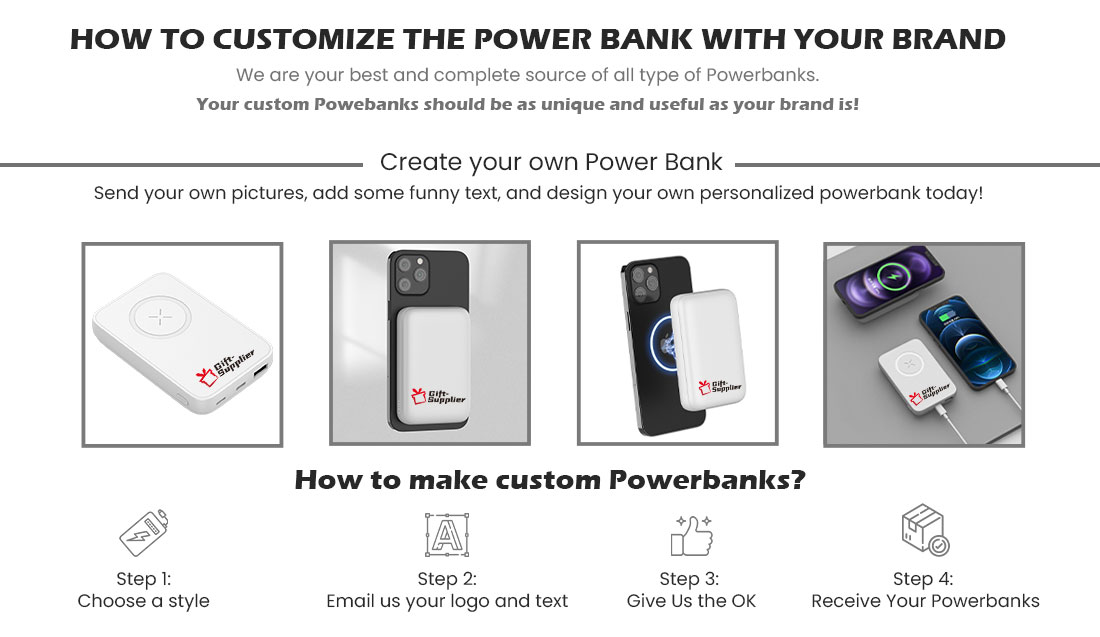 Frequently Asked Questions :
Q1. How can I know the Compatibility of the 15w wireless charger?
A1. 20W Fast custom iphone chargers compatible with Huawei Mate40 Pro+5G/Mate40 RS,15W Custom wireless charging compatible with iPhone 13/14 series,iPhone 12 series,Samsung S21/S20/Note 20,LG/Sony; 10W Fast 15w wireless charger for Samsung Galaxy 10/9/8/Note 10/9/8/,Nokia/Google; 7.5W Custom wireless charging For iPhone 11series/X/XS/8/SE ; 5W standard wireless charger for Airpods 3/2/Pro, Samsung Galaxy Buds and ALL Qi-enable Devices.
Q2. Why Wireless charger is a perfect promotional gift?
A2: Just about everyone carries at least one media device with them at all times. A smartphone, a tablet, or something similar that keeps us connected to the Internet ... and needs to stay charged. And no matter how advanced the technology gets, it seems that we can never perfect a media device that runs for an entire day without needing to get recharged. Custom wireless charging is a great promotional giveaway item for any business that manufactures or sells media devices.
Q3: Why choose Gift-supplier?
A3: Customers love to purchase our Wireless charger and enjoy the guaranteed lowest price on custom iphone chargers and 15w wireless chargers from Gift- Suppliers.
Q4. What is the process to place an order?
A4: Please pick up the custom iphone charger model, and send us your logo file. We are happy to send you a free virtual artwork for confirmation. The next step is to make the physical sample for confirmation and mass production for the wireless charger order.
Q5. What do I need to do if I want to print my own logo?
A5: First, please send us your logo file in high resolution. We will make artwork for your reference to confirm the position and size of your logo. Next, we will produce 1-2 samples for you to check the actual effect. Finally, the formal production will start after the sample is confirmed.
Q6. What is the warranty on your 15w wireless charger?
A6: We offer a warranty of 12 months for all products.