Custom 10,000mAh Power Bank Charger|Promotional Portable Battery Packs
Introducing our 10,000mAh Power Bank and custom portable battery charger – the ultimate promotional gift combo to power up your brand's presence. These sleek, high-capacity power banks not only keep your devices charged on the move but also leave a lasting impression with your logo or custom design. Whether it's for corporate gifting, trade shows, or client giveaways, our portable battery chargers make a statement. With dual functionality and a stylish design, they are perfect for anyone on the go. Keep your customers connected and show your commitment to quality and innovation with these branded power banks. Boost your brand with every charge!
person person Choose us as your promotional gift supplier is the smartest decision you've made since we have supplied Gifts to 50+ famous brands worldwide, working with 37,000 customers in 20 countries.
Inquiry now
local_shipping Customize your logo for this product and promise to ship it within 7 working days.
Factory Direct Sale 10000mAh Power Bank Description:
l No more worries about running out of battery with the customizable Portable Charging Treasure. With a compact size, this Portable Charging Treasure easily fits into your bag and allows you to charge your phone wherever you are.
l Huge Capacity: 10000mAh power bank can charge most phones 8-10 times and other USB devices multiple times for an average of 9 days of unrestrained usage per charge, and no need to worry about losing contact with anyone due to out-of-power.
l 4 Outputs & 2.5X Fast Charge: It can charge 4 devices simultaneously and you can share a Portable Charging Treasure with your family and friends. 3.0A fast charging speed ensures 2.5 times faster than an ordinary Factory Direct Sale 10000mAh Power Bank, greatly shortening charging time for your phones.
l Fashionable LED Digital Display: This unique power bank 10000mah features an excellent LED indicator and percentage-based readout that shows you the precise remaining power. No more guessing about the remaining capacity and when to recharge. Know before you go!
l Strong Custom Portable Battery Charger: With the exquisite and grippy design, this charger is easy to hold, convenient to toss into a pocket or bag, and incredibly portable. The perfect partner for parties, dating, long-distance, business, and airplane trips.
l Superior Safety Factory Direct Sale 10000mAh Power Bank The built-in smart circuitry ensures protection against overcharging, short-circuiting, and discharging thus protecting your devices. You can charge your devices safely.
l Wonderful Portable Charging Treasure Promotion Gift: From our promotional Custom Portable Battery Charger to custom phone chargers for your car, there's no shortage of options to share your message and spread the word so get started designing your Custom Portable Battery Charger today! Distribute your new Factory Direct Sale 10000mAh Power Bank as a gift to employees, valuable clients, or business prospects during your next special event or trade show. Gift-Supplier promotional products like our power bank 10000mah are compatible with many devices, including the Apple iPhone and Samsung, HTC, Nokia, and LG Androids.
Factory Direct Sale 10000mAh Power Bank Specifications:
Product Capacity: 10000mAh
Micro Input:5V/3A, 9V/2A,12V/1.5A
Type C Input: 5V/2.4A,9V/3A,12V/3A,15V/3A,20V/5A(100W)
Type C Output:5V/2.4A,9V/3A,12V/3A,15V/3A,20V/5A(100W)
USBA 1 Output: 5V/3A 9V/3A 12V/1.5A
USBA 2 Output: 5V/3A
Battery: LED Indicator
How to do customization on the Custom Portable Battery Charger: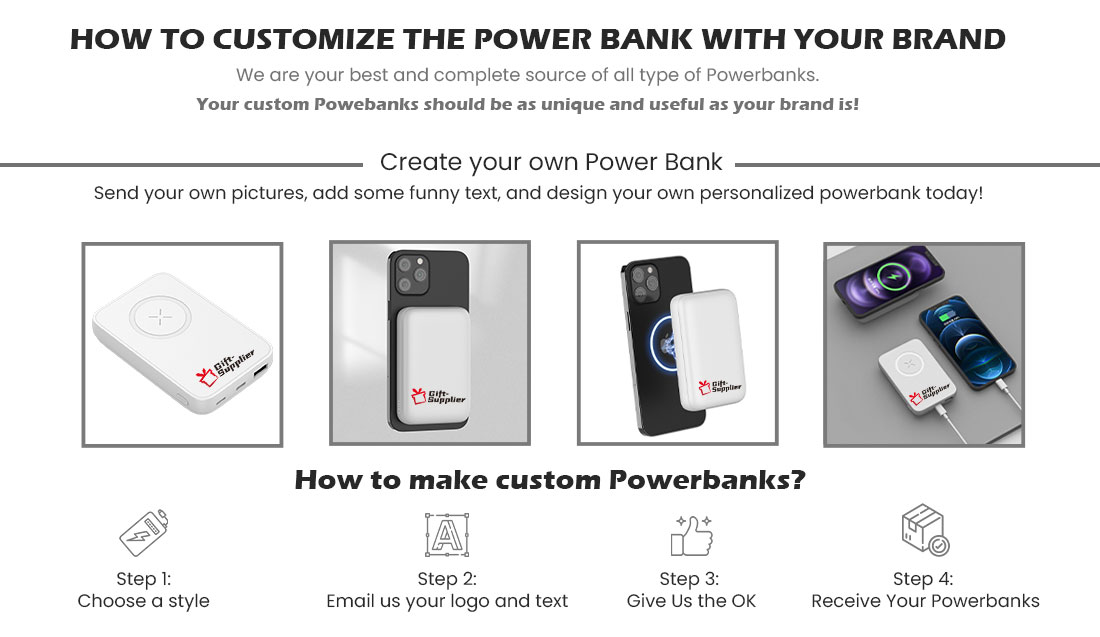 Frequently Asked Questions :
Q1. Why Factory Direct Sale 10000mAh Power Bank is a perfect promotional gift?
A1: Just about everyone carries at least one media device with them at all times. A smartphone, a tablet, or something similar that keeps us connected to the Internet ... and needs to stay charged. And no matter how advanced the technology gets, it seems that we can never perfect a media device that runs for an entire day without needing to get recharged. That's when a Custom Portable Battery Charger comes in handy, and that is your promotional opportunity. The power bank 10000mah is a great promotional giveaway item for any business that manufactures or sells media devices.
Q2: Why choose Gift-supplier?
A2:Customers love to purchase our Factory Direct Sale 10000mAh Power Bank and enjoy the guaranteed lowest price on a Custom Portable Battery Charger & power bank 10000mah from a Gift- Supplier.
Q3. What is the process to place an order?
A3: Please pick up the power bank 10000mah model, and send us your logo file. We are happy to send you a free virtual artwork for confirmation. The next step is to make the physical sample for confirmation and mass production for the Custom Portable Battery Charger order.
Q4. What do I need to do if I want to print my own logo?
A4: First, please send us your logo file in high resolution. We will make artwork for your reference to confirm the position and size of your logo. Next, we will produce 1-2 samples for you to check the actual effect. Finally, the formal production will start after the sample is confirmed.
Q5. What is the warranty of your Factory Direct Sale 10000mAh Power Bank?
A5: We offer a warranty of 12 months for all products.