Halloween Bulk Buy Blood Bag for Drinks as Gift in Halloween Party
The Halloween IV blood bag for drinks is made of food-grade PVC, used to fill soda, jelly, juice, alcohol and etc, clip-on bottles stopper to prevent overflow, leak-proof design, and carnival. These stickers are labeled with A, AB, B, O corresponding to the blood type, more diverse and realistic, easily allowing you to find your real friend.
Blood bag: 12 Fl Oz/350 ml x 10
Blood bag labels: 10 pcs
Clips: 10 pcs
Capacity syringe: (100ML) x 1
person person Choose us as your promotional gift supplier is the smartest decision you've made since we have supplied Gifts to 50+ famous brands worldwide, working with 37,000 customers in 20 countries.
Inquiry now
local_shipping Customize your logo for this product and promise to ship it within 7 working days.
Blood Bag for Drinks Description:
Our blood bag for drinks are completely food safe, can contain soda, alcohol and juice. blood bag for drinks comes with a pre-stamped hole in the top for convenient hooking. Customizable label has blood type A, B, AB, O and other. Other category is a fill in box and can write in your own preferred blood type, for example Vampire, Alien or Zombie. This blood bag for drinks is perfect as Halloween party cups, decorations, ice bag or even vampire TV or movie props. A set of blood bag for drinks comes with 10 empty bags per set, it is safe to full in it. With a clip and seal mechanism, preventing drinks from spilling and helping to keep drinks fresh for a extensive time. The working tube is convenient for both filling and drinking. Unlike normal blood bags, it can hold 350 ml of beverages at most, as blood bag drink container for parties. Once you have got your punch tasting the way you want, add a few drops of flood coloring to make it resemble blood, yucky green slime, alien blood or bubbling purple witches' brew. You are on your way to planning the best party ever!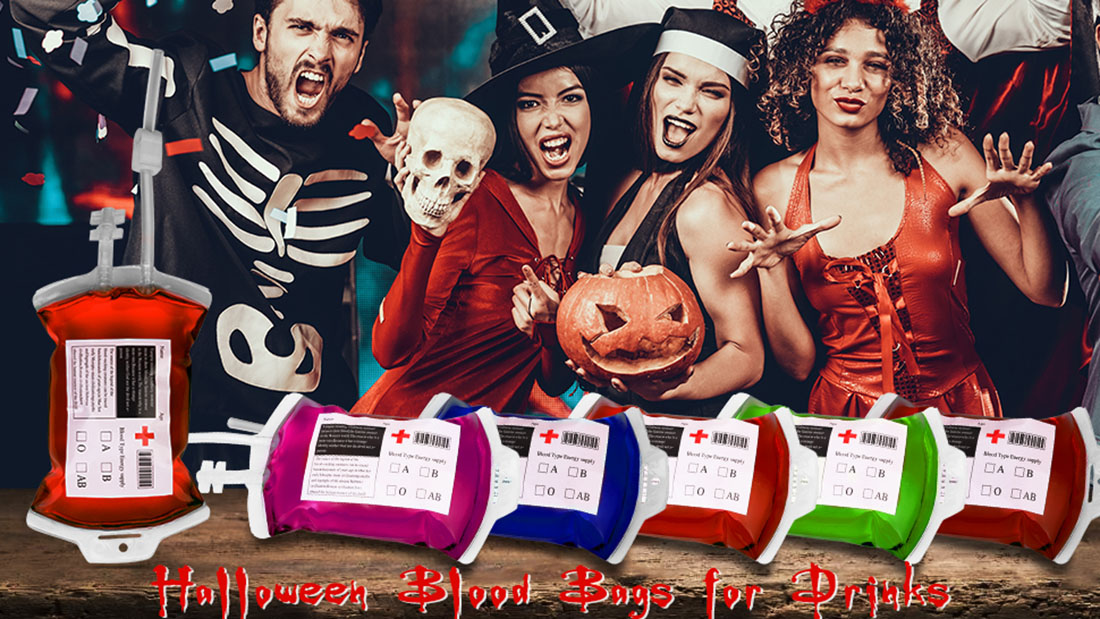 About this item
Convenience Set: A set of Halloween bag contains 10 cups (empty), 10 bag labels, 10 clips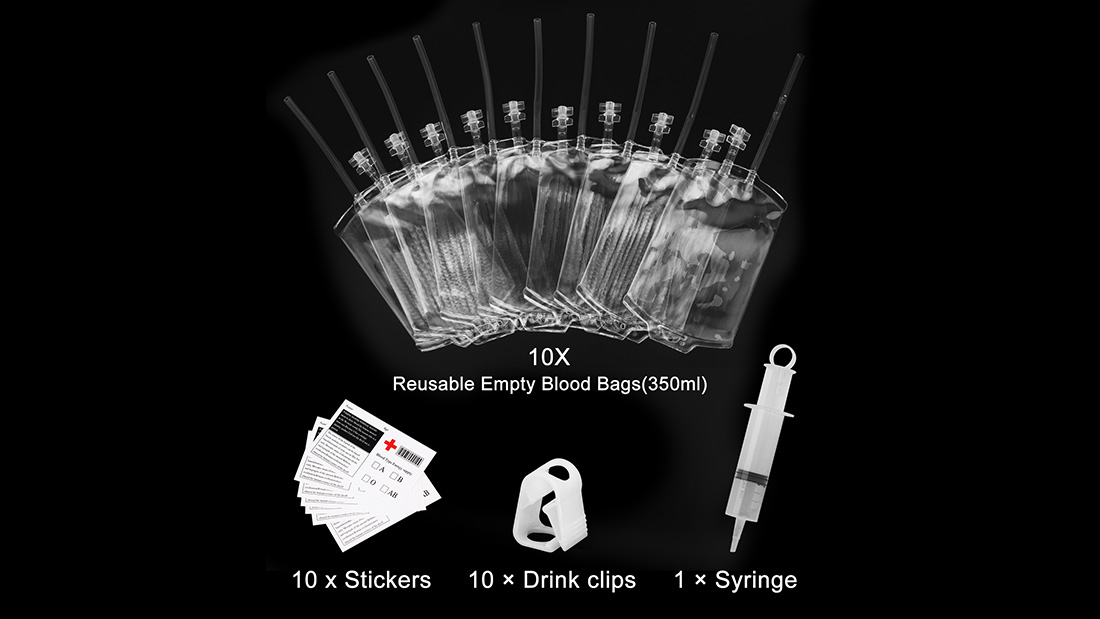 Intimate design: The clip-type plug can prevent overflow, and the leak-proof design allows you to enjoy the carnival. There is also a working tube for easy filling and drinking (Note: Do not put hot drinks in the bag, overheating may damage the bag and cause leakage.)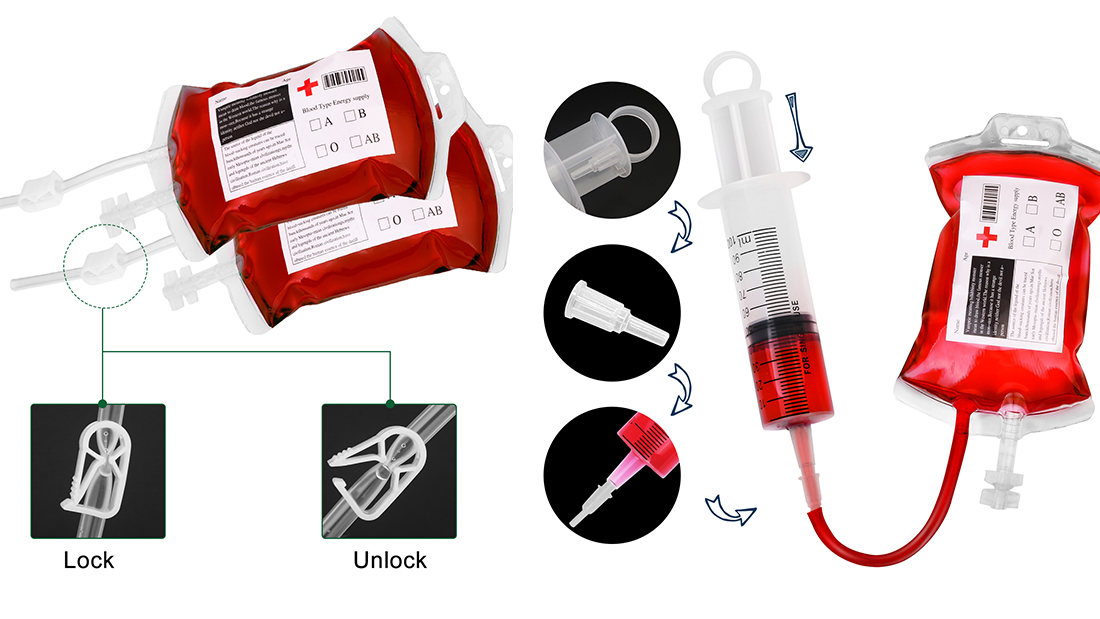 Complete food safety: used to fill soda, jelly, juice, alcohol, etc. The top of the bag has a pre-punched hole for easy hooking.
Creative Drink Bag-Nurse's Day: Halloween bag is perfect for party cups, nurse graduation party props, fun decorations for children, party cups and surprise cups for any carnival, holiday or parade.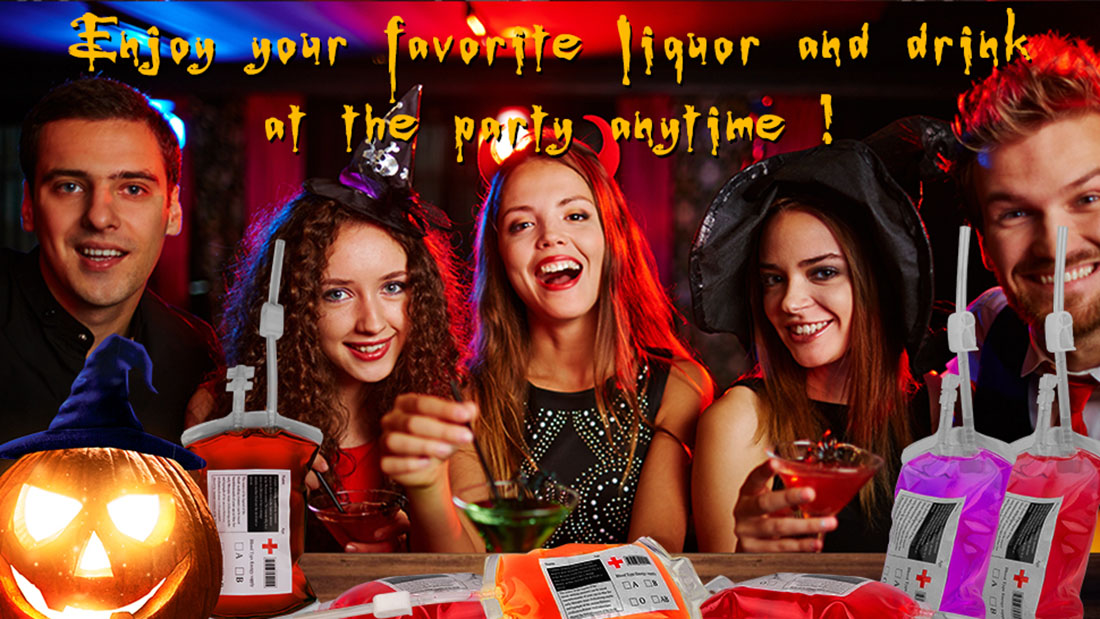 Recommend this Halloween blood bag for drinks as a gift reason
Who says Halloween is just for trick-or-treating? -The word Halloween always conjures up images of kids dressed as cute, little ghosts and goblins and running around with their pumpkin bags to trick-or-treat. However, our Halloween vampire beverage bags are a great choice for Halloween party supplies. These Halloween blood bags for drinks stir up some trouble at Halloween party that your guests will never forget. These Halloween Party Supplies Blood Bags are the necessary horrific Halloween party props for Halloween party decorations, haunted house decorations, Zombie Party Supplies.
The Halloween drink pouches will be a good Halloween party props to help you try a haunted mansion themed party. Get-together where waiters dress as ghostly butlers to add serve champagne easily and witch's brew to your guests with our Halloween party supplies. Ideal for Scary Halloween decorations and zombie Halloween party favors. Hold a scary and creepy Halloween party with Halloween blood bag energy drink container bloody vampire/zombie/medical nursing Halloween party favors party decorations.