Personalized Bluetooth Speaker - Amplify Your Brand Promotion
Elevate your marketing campaigns with our versatile custom and promotional Bluetooth speakers. Our custom Bluetooth speakers offer a unique opportunity to showcase your brand's identity while delivering exceptional sound quality. Personalize these speakers with your logo, message, or artwork to leave a lasting impression on clients, employees, or event attendees.
Our promotional Bluetooth speakers are designed to make your message resonate. With wireless connectivity and superior sound, they ensure your branding is not only seen but heard. Whether you're promoting your business, organizing corporate events, or seeking memorable giveaways, these speakers deliver both style and substance. Explore our range today to find the perfect promotional Bluetooth speaker that matches your brand's identity and amplifies your promotional efforts.
person person Choose us as your promotional gift supplier is the smartest decision you've made since we have supplied Gifts to 50+ famous brands worldwide, working with 37,000 customers in 20 countries.
Inquiry now
local_shipping Customize your logo for this product and promise to ship it within 7 working days.
High-performance Custom Bluetooth Speaker Description:
With a punchy 3W output these aluminum Bluetooth-enabled Custom Bluetooth Speakers will fill any room with a crisp, crystal-clear sound. Features include an FM radio tuner, Micro SD Card input, and USB input allowing you to play music from the radio, Micro SD Card or even a flash drive. Built-in music controls and a microphone for hands-free operation are included. Bluetooth 4.2 enabled with a working range of around 10 meters. This Custom Bluetooth Speaker with an internal rechargeable battery that provides up to 1.5 hours of nonstop music. Built-in music control and microphone for hands-free easy calling.
Bluetooth Version: 5.0, hand-free, Line In, TF Card.
Frequency: 2.402-2.480GHz.
MAX Power output: 3W
MIC Sensitivity: -32 db
Receive Sensitivity: Better than +82dBm.
Range: 10 meters
Data Transmission: Up to 3Mbps.
Charging Voltage: 4.8V –5.2V DC.
Working Voltage: 3.7V –4.2V DC.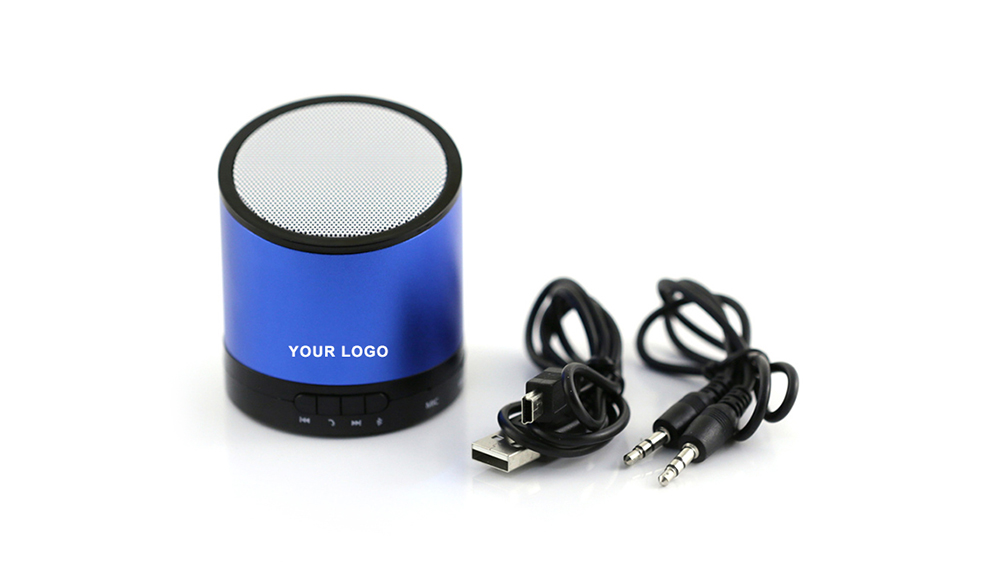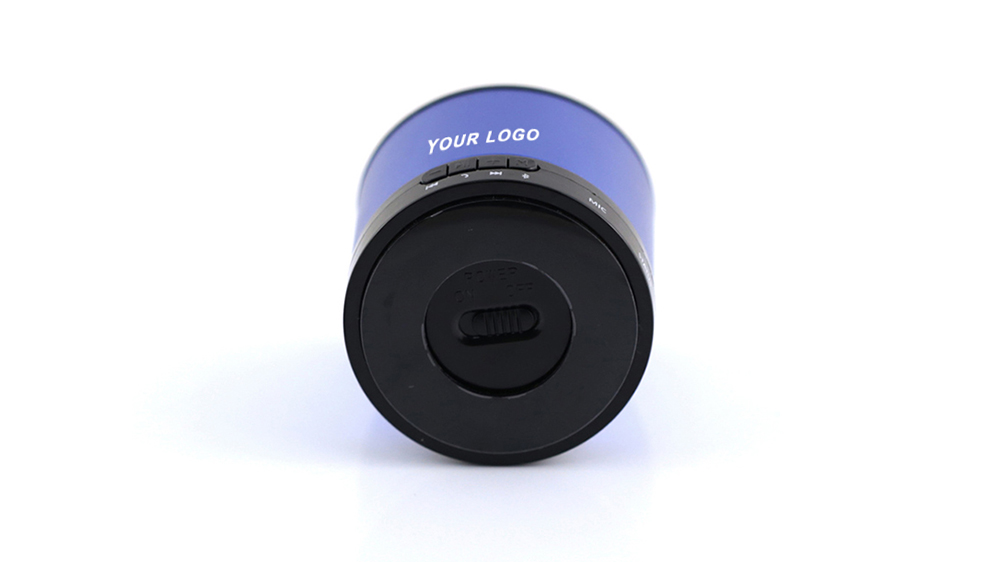 About this Promotional Bluetooth Speaker:
Long battery life: 450mAh large capacity battery lets the speaker work for up to 4 hours.
Various output mode: the Promotional Bluetooth Speaker supports Bluetooth Connection, 3.5mm aux cable, and high capacity TF card. You can enjoy music in multiple connection ways. Experience your music in full-bodied stereo realized through high-performance drivers.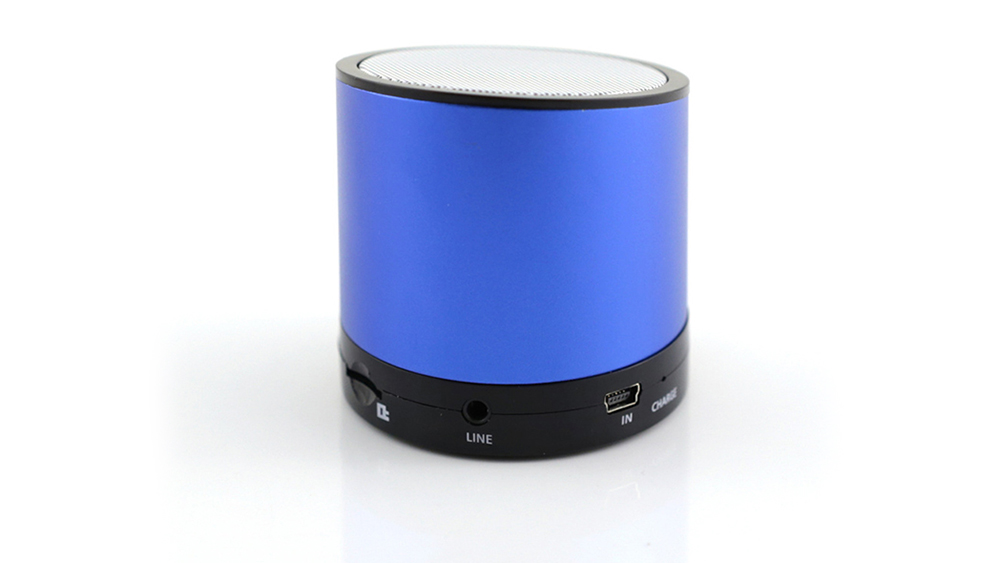 Bluetooth 5.0 technology: compatible with all Bluetooth-enabled devices. Instantly connect to your smartphone or tablet from up to 33 feet away. The sound core reconnects automatically to the last device used. Built-in mic for hands-free calls.
FM Radio Function: The FM radio function lets you listen to the news wherever and whenever. Make sure that plug a cord in the mini USB slot to be the antenna when you use the FM function.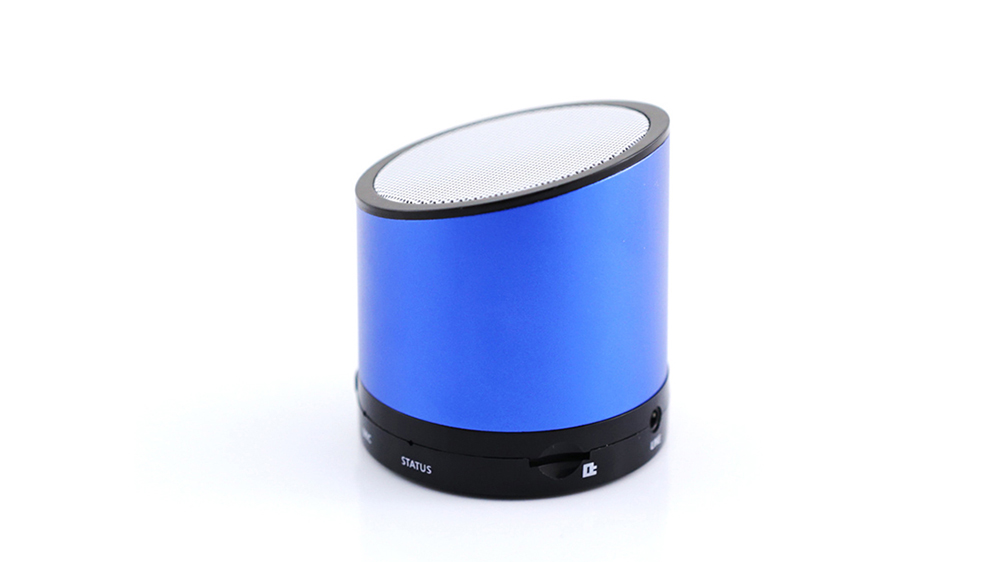 Recommend this Custom Bluetooth Speaker as a gift reason
For a lot of people, Bluetooth is the next evolutionary step in mobile phone technology: a phone that you stick in your ear. Of course, there are also obvious drawbacks to the technology. For one thing, it makes group phone calls more difficult. You used to be able to simply switch your device to speaker-phone mode and then everyone in the room could hear and interact with the call. If you did that now, it would translate as a voice screaming out of your ear, while everyone in the room would be leaning forward to shout their answers back into your ear. What you need is an external speaker.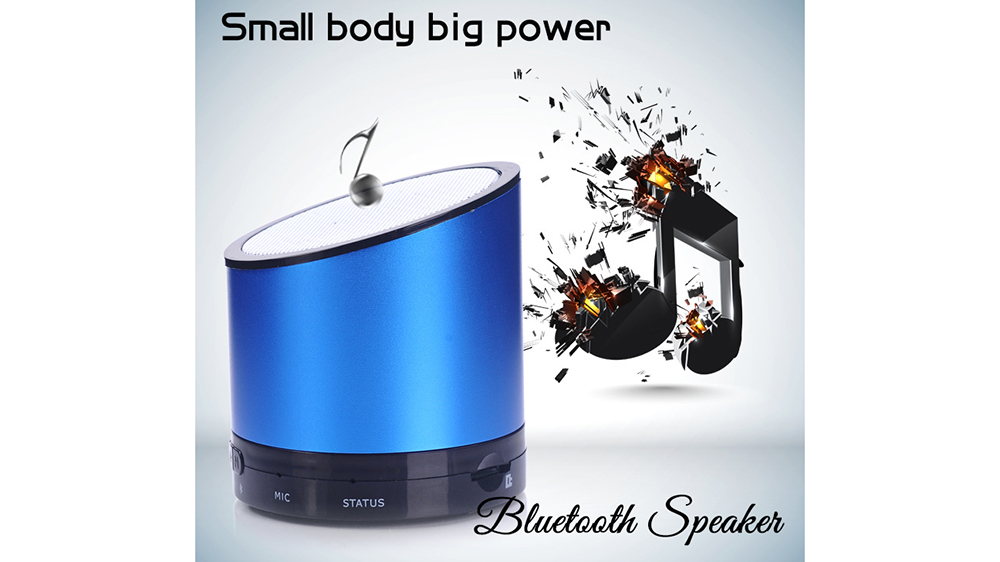 How many times has a private conversation with a client, co-worker, or vendor turned into a conference call? Normally, a conference call involves putting one person on hold while you connect with a third person. But sometimes you are in the middle of a discussion when someone walks past your cubicle whom you realize has some insight into the current project. For those spontaneously-generated conference calls, you will just switch your phone to its speaker.