Multi-function Custom Keychain with Logo The Best Gift Key chain Custom
Why Choose the Multi-function Custom Keychain? Multi-function Key chain Custom is very durable and ages beautifully which will make this unique and practical key carrier last a lifetime. One of the greatest houses warming presents and the perfect gift for a Father/Dad, grandfather, Husband, Uncle, Boyfriend, Man, and Woman. A great minimalist key organizer.
This top-notch Multi-function Custom Keychain leather keychain features a very practical, compact design that makes it perfect to fit your pockets. Clutter and holes in your pockets are a thing of the past. Your keys are stored neatly with the space-saving design. The Multi-function key chain custom is the perfect housewarming gift for every man and woman!
person person Choose us as your promotional gift supplier is the smartest decision you've made since we have supplied Gifts to 50+ famous brands worldwide, working with 37,000 customers in 20 countries.
Inquiry now
local_shipping Customize your logo for this product and promise to ship it within 7 working days.
Multi-function Custom Keychain Description
l Leather Multi-Function Custom Keychains are the perfect way to display your business's logo or brand with classic ease.
l Do the keys always occupy most of the space in your pocket or bag? Using this compact key chain custom, it can organize your keys methodically, and effectively save space!
l When you run or walk, can you always hear the jingling noise from keys? This smart key organizer can compact the keys and prevent them from sloshing around or making noise.
l When you put keys, phone, wallet, or other soft items together, will you worry that your keys will scratch them? Made of high-quality cowhide material, this soft, compact key organizer can hide sharp key edges and prevents them from scratching the phone or wallet.
l We can customize your Key chain Custom as per your requirements.
Uses for
A custom keychain organizer can hold up to 7 different keys or tools and is perfect as a key fob holder to serve all your needs. It tightly holds the keys together and it eliminates the frustrating jingling sound all key bundles produce. It also protects your mobile phones and other sensitive accessories from scratches.
How To Make Custom Keychains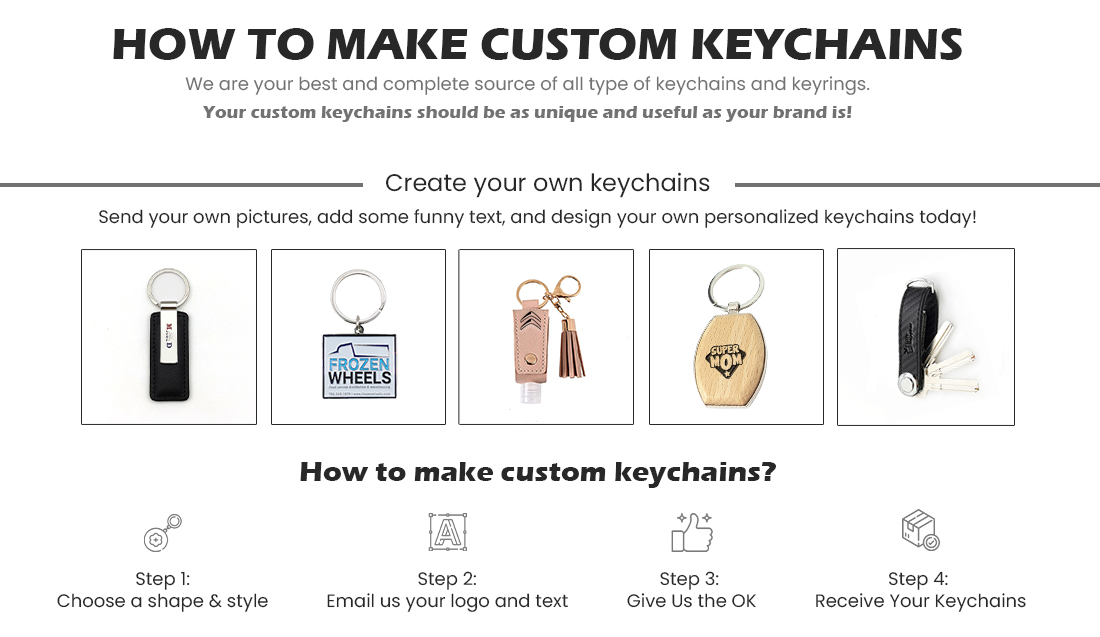 Frequently Asked Questions
1. Q: Can I order mixed models or colors for the Multi-function Key chain Custom?
A: Sure, we are happy to accept mixed orders or colors.
2. Q: Can I customize the Multi-function Custom Keychain?
A: Yes, a customized logo or customized shape is also available. The lead time will be longer like 20-25 days depending on the quantity.
3. Q: Do you provide free samples for the Leather Custom Keychain?
A: We provide the sample for free after customer information verification.
4. Q: Can you please tell us the customization process for the Key chain Custom?
A: Select the item you like, Email us the logo and get the artwork approved. The last step will be sample production. Please email us at: sales@gift-supplier.com