Rubiks Cube Custom Your Own 3x3 Photo Cube as Promotional Gift
Custom Rubik's Cube You can put the photos you want to customize on it. These 3x3 photo cubes are the perfect choice for a fun gift idea, and the custom Rubiks cube allows you to preserve memories for life. It's a great promotional gift!! Customized brand service available!
Product Colors: Customized
Size: 5.6x5.6x5.6 cm/2.25x2.25x2.25 inch
Material: ABS plastic
Item Weight: 95g/3.35 OZ
Imprint Process: Silk Screen/Sticker/Digital printing
person person Choose us as your promotional gift supplier is the smartest decision you've made since we have supplied Gifts to 50+ famous brands worldwide, working with 37,000 customers in 20 countries.
Inquiry now
local_shipping Customize your logo for this product and promise to ship it within 7 working days.
Custom Rubiks Cube 3x3 Photo Cube Description
Custom Rubik's Cube You can put the photos you want to customize on it. These 3x3 photo cubes are the perfect choice for a fun gift idea, and the Rubik's cube bulk allows you to preserve memories for life. It's a great promotional gift!! Customized brand service available!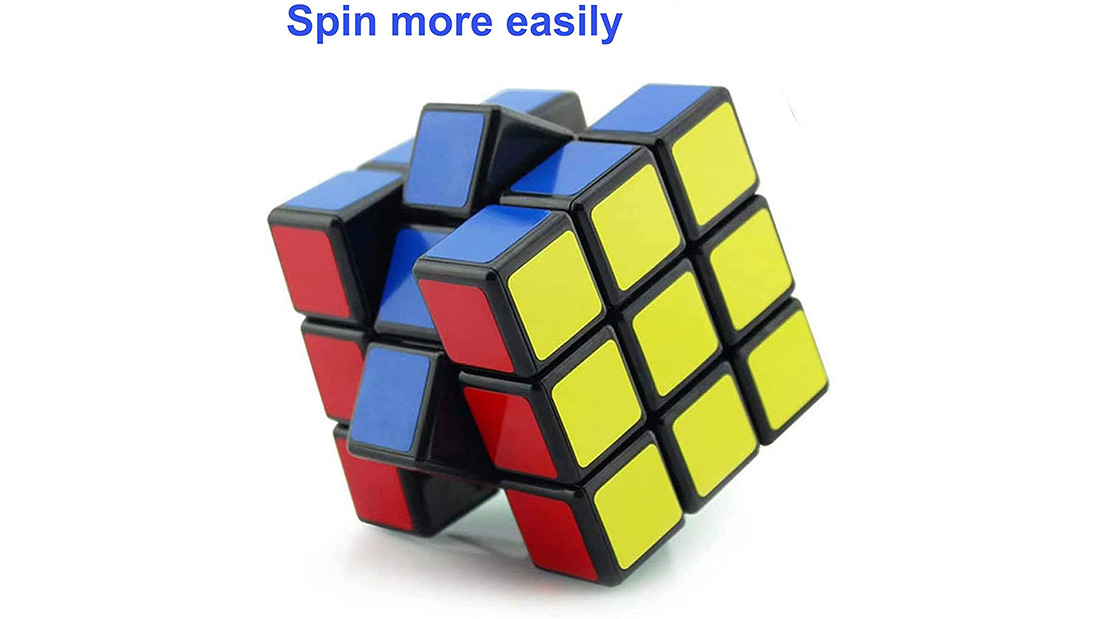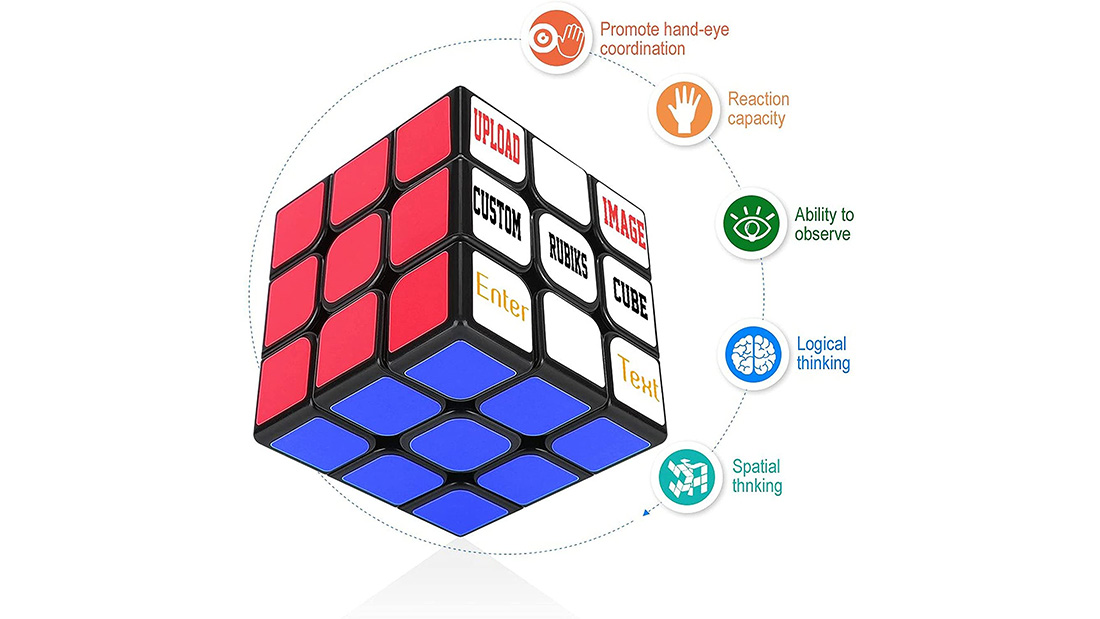 High Lights
l This finger toy Rubik's Cube can not only retain your memories but also release stress for you stress and anxiety relief, killing time fidget toys. Suitable for office staff and students. When you have it, it will make you fall in love with it, splicing your best memories, and letting you forget pressure and troubles. Enjoy your moment.
l We are a customized manufacturer specializing in customized products. We have advanced technology to help you perfectly show the photos you gave us on the 3x3 photo cube, retaining the most authentic feeling of your pictures.
l Our Rubik's cube wholesale is made from super durable ABS material and it's one of the best cubes in the market. Our smooth cornering technology allows players to turn faster. This value Rubiks cube bulk pack is great for school supplies, birthday party favors, giveaways, party supplies, and all other occasions. The custom Rubik's cube logo is the ultimate gift for all ages.
l Anti-pop technology and upgraded mechanism structure allow the custom Rubiks cube with faster turning but also balance fantastic corner cutting and zero pops.
l Speed up your solving time without any effort and bring you the best turning feeling in advance. The Rubik's cube wholesale is easy turning and smooth play.
l Superb rotation, good fault-tolerant performance. Great corner cutting, difficult to pop, good control of the 3x3 photo cube.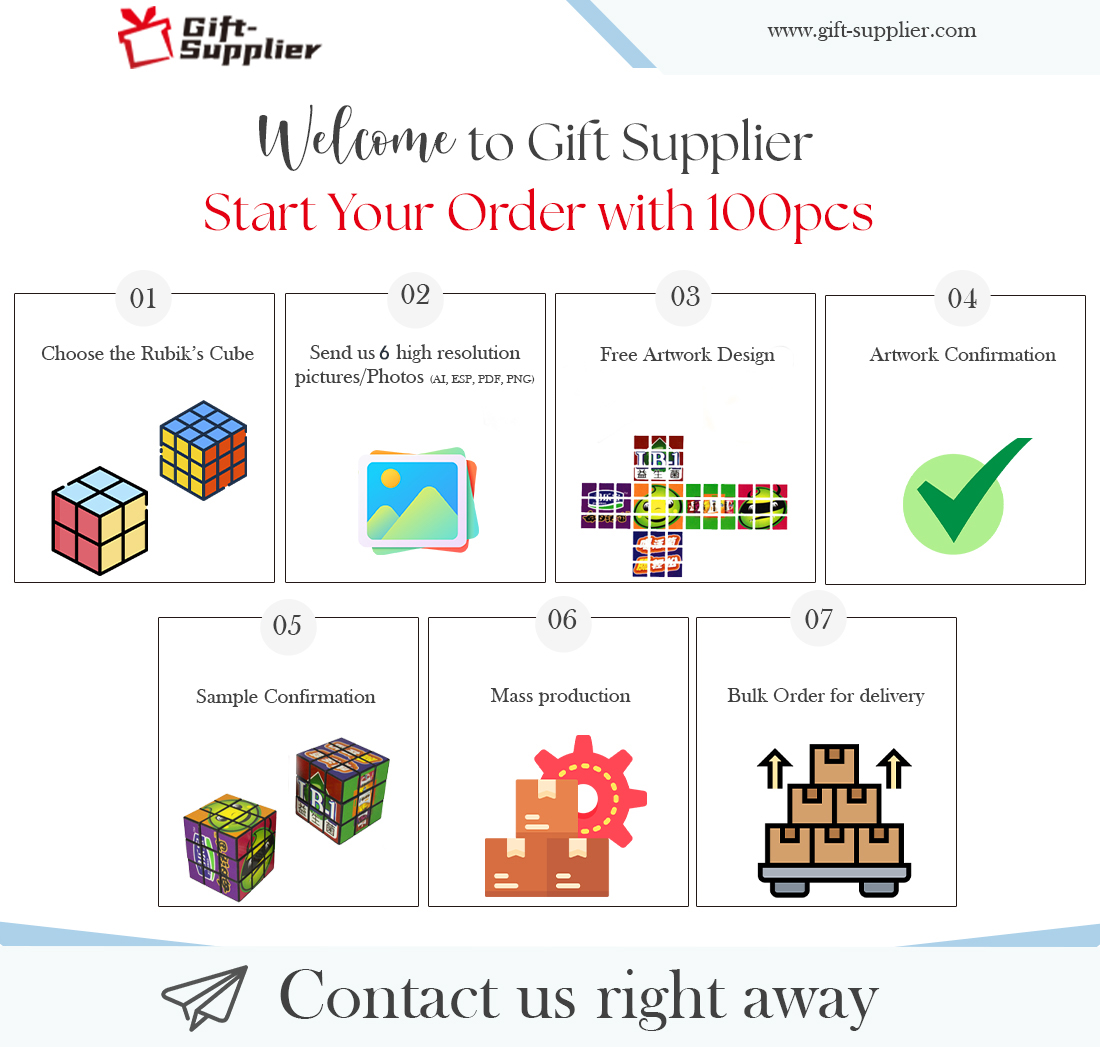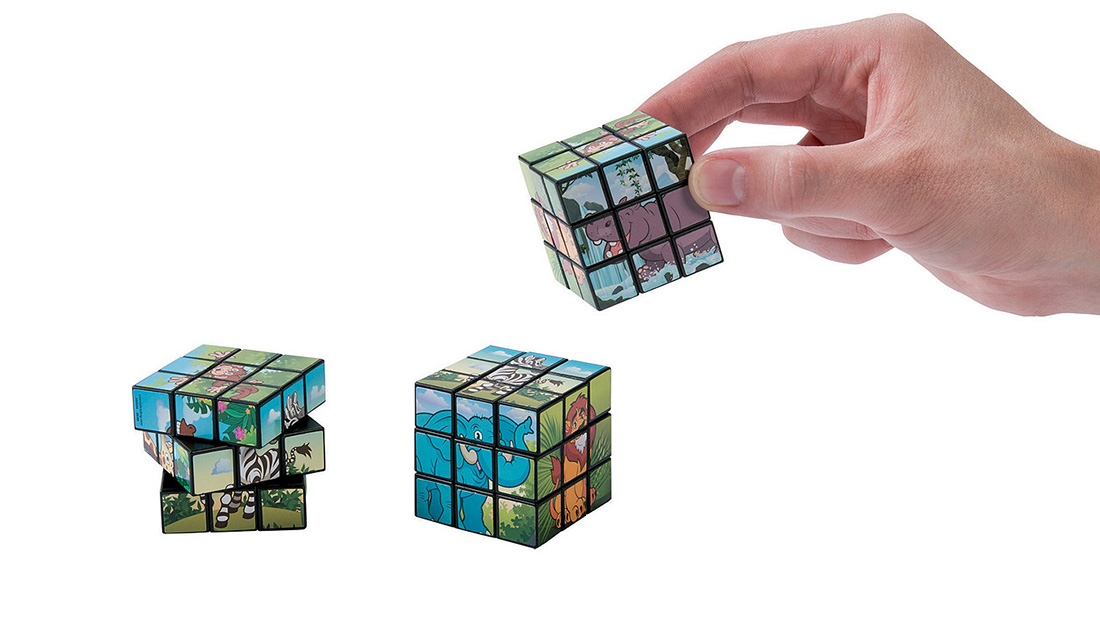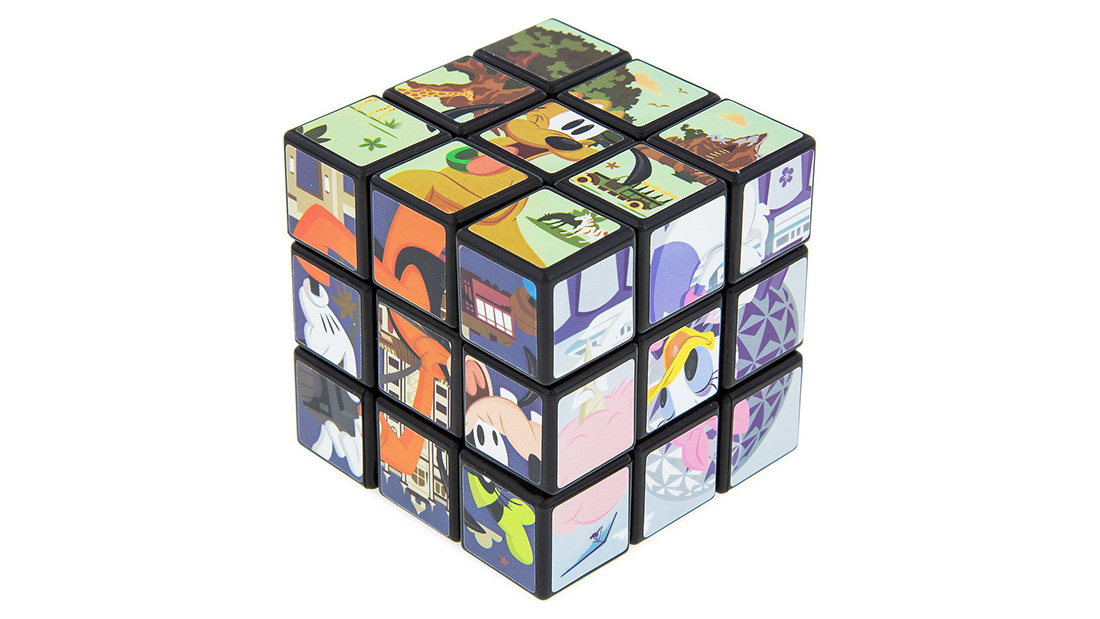 WARM TIPS
1. 6-Picture Custom Rubik's Cube with logo: 6 square pictures or Single-side printing
2. We use non-fading stickers for the 3x3 photo cube. In order to make the photos more clear.
3. We also have printing on the custom Rubik's cube. It's optional
3. Please send us the high-resolution photos. The higher the quality, the better the effect on the custom Rubik's speed cube.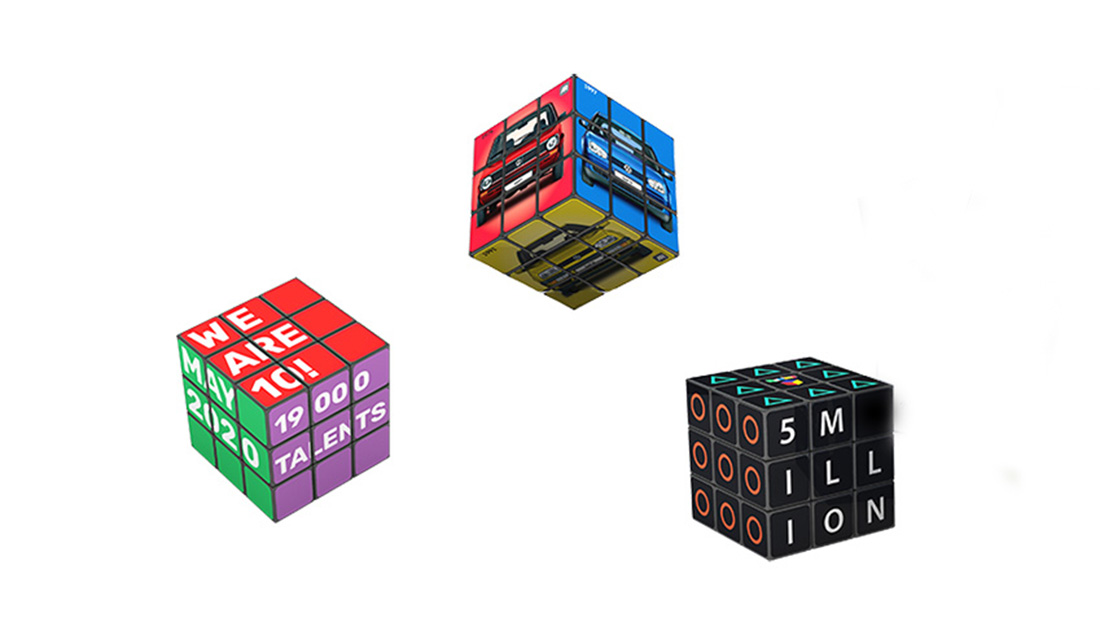 Uses for
The 3x3 photo cube can be used on Christmas, Thanksgiving Day, Halloween, Veteran's Day, Labor Day, Independence Day, Father's Day, Flag Day, Mother's Day, Easter, All Fool's Day, St. Patrick's Day, Washington's Birthday, St. Valentine's Day, Lincoln's Birthday, New Year's Day, Birthday.
Product: 3x3x3 custom Rubiks cube
Imprint Location: All sides
Imprint Color: Varies by Design on a 3x3 photo cube
QTY: 1pc/box or Customized as per request
Minimum Order Quantity: 100pcs/design
OEM/ODM Service: Available
Country of Origin: China
Standard Production Schedule
Artwork: 3 days
Production: 12-15 days
"Need to ship earlier? Please contact us!
Free proof of your logo is included with every order!
*Approve logo proof within 24 hours to meet Ships By date.*
Packaging Options
Standard: Gift box
Custom: Available
Accessories: Gift Box
Frequently Asked Questions
Q: What Is a custom Rubik's cube?
A: A magic cube is one of the custom speed cubes where you can solve it with tricks and print anything on it and in any size.
Q: Where To Buy a custom Rubik's Cube?
A: If you don't want to compromise with the quality at a very affordable price, then buy Rubik's speed cube from Gift-supplier.
Q: Can I customize the 3x3 photo cube?
A: Yes, the custom Rubik's cubes and package all can be customized as requested.
Q: How To Make a Custom Rubik's Cube?
A: The process is so simple. Please email us 6 photos or pictures and we will prepare you a free artwork for confirmation. Once you confirm the artwork, we can go directly for sampling.
Q: How long will it take to make customized custom speed cube?
A: It will take 5-7 days for the customization of the custom Rubik's cubes.
Q: What's your production lead time?
A: Normally the production lead time is 12~15 days after the order is confirmed. If it's an urgent order, please make contact and we will do our best to help you!
Q: Will you help us to arrange the delivery?
A: Definitely, we can arrange the delivery by express or by Air or Ocean. All the delivery will be door to door including tax. It's a hassle-free service from Gift-Supplier.
Q: Why choose the custom Rubik cube as a promotional gift?
A: Personalize a 3x3 photo cube in varied sizes and pieces and print your brand's logo, product picture, tagline, and marketing punchline on it. Get it for yourself or gift it to your employees, distributor, or any other businessperson and expand your reach. People will keep the gift for a long-term basis because it's cute, fun, and can help people to get relax.