Custom Rubik's Cube with 3D Printing Logo Magic Cube For Company Gifts
The custom Rubik's cube has a wide area for printing. Customers can put a lot of information on the magic cube. Also, this cube is playable and definitely a great choice for promotional purposes! The most important thing when designing this folding cube is the artwork and the sequence. A nice artwork will encourage customers to keep it. Environmentally friendly materials, comfortable, stable molecular structure, impact resistance. The edges and corners are polished smooth, easy to control, easy to use, and suitable for children to play with.
Product Colors: 3d magic cube
Size: 6x6x12 cm
Material: Plastic
Item Weight: 300g
Imprint Process: UV-printed inks/Sticker
person person Choose us as your promotional gift supplier is the smartest decision you've made since we have supplied Gifts to 50+ famous brands worldwide, working with 37,000 customers in 20 countries.
Inquiry now
local_shipping Customize your logo for this product and promise to ship it within 7 working days.
Magic Cube Puzzle 3D Description
This 3d Magic Cube consists of eight blocks connected by the artwork in a very special way. You can keep unfolding this cube until you are back on the first face. This custom Rubik's cube works better than catalogs or flyers as it builds up the interest of your customers. You can also bring your points in sequence to arouse curiosity from your customers.
High Lights
l You can customize the size of the 3d Magic Cube if you wish to, however, make sure that it is user-friendly and easy to unfold. As for the artwork, you can even use licensed characters or pictures of famous people. Reserve one face of the 3d Magic Cube for your logo, or you may opt to put your logo on every artwork.
l consider also leaving one or more faces blank. Let your customers express their creativity on the custom Rubik's cube. It may be a good idea for Valentine's Day. Simply create some spaces in your artwork where customers can write different messages for their loved ones, or even paste their pictures in. This cube definitely has a higher perceived value than those usual cards. It will drive sales for your product!
l Consider ordering Magic Cube Puzzle 3D for birthdays, holiday celebrations, schools, business advertising giveaways, fundraising gifts, and contest prizes. You can even pair them with other personalized photo gifts or puzzles to make a fun game-themed present.
l Get your logo printed on each individual block on every side or on the full panel on every side!.
l Solid Plastic, safe, non-toxic. Harmless to humans and the environment
l Wear-resistant and durable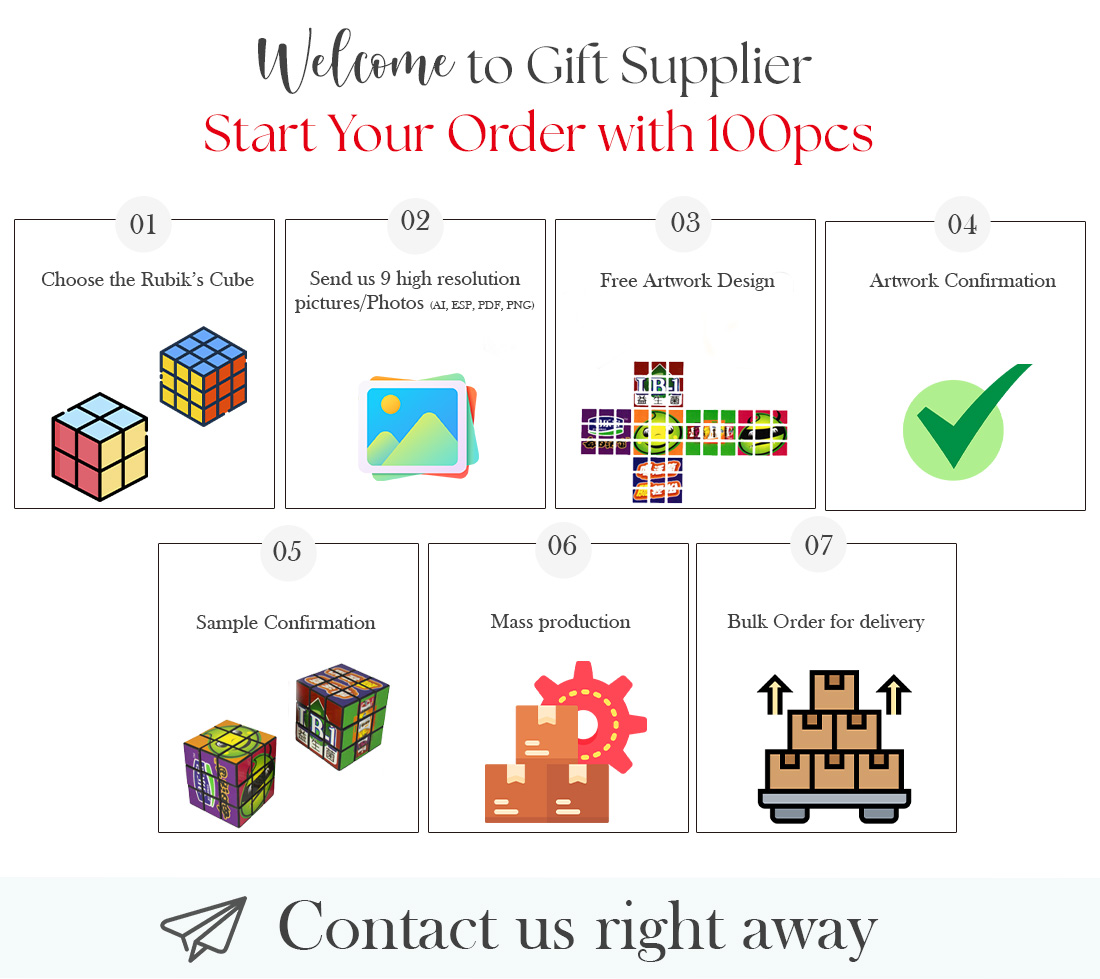 Custom Rubik's Cube Uses for
These custom 3d Magic Cube will take a fun puzzle game for adults and teenagers with excitement and thrill, its compact size is convenient for you to carry and play at any time and any place. Ideal birthday and holiday gifts (Christmas, Thanksgiving, Halloween, Children's Day, etc.) for boys, girls, teenagers, adults, and elders, for beginners and professionals.
Imprint Location: All sides
Imprint Color: Varies by Design
QTY: 1pc/box or Customized as per request
Minimum Order Quantity: 100pcs/design
OEM/ODM Service: Available
Country of Origin: China
Standard Production Schedule
Artwork: 3 days
Production: 12-15 days
Need to ship earlier? Please contact us!
Free proof of your logo is included with every order!
*Approve logo proof within 24 hours to meet Ships By date.*
Magic Cube Puzzle 3D Packaging Options
Standard: Gift box
Custom: Available
Accessories: Gift Box
Frequently Asked Questions
Q: What Is a Magic Cube Puzzle 3D?
A: A magic cube is one of the 3d Magic Cube where you can solve it with tricks and print anything on it and in any size.
Q: Where To Buy a custom Rubik's Cube?
A: If you don't want to compromise with the quality at a very affordable price, then buy custom Rubik's cube from Gift-supplier.
Q: Can I customize the Magic Cube Puzzle 3D?
A: Yes, the custom Rubik's cube gifts and package all can be customized as requested.
Q: How To Make a Custom Rubik's Cube?
A: The process is so simple. Please email us 8 photos or pictures and we will prepare you a free artwork for confirmation. Once you confirm the artwork, we can go directly for sampling.
Q: How long will it take to make a customized photo 3d Magic Cube?
A: It will take 5-7 days for the customization for the custom Rubik's cubes.
Q: What's your production lead time?
A: Normally the production lead time is 12~15 days after the order is confirmed. If it's an urgent order, please make contact and we will do our best to help you!
Q: Will you help us to arrange the delivery?
A: Definitely, we can arrange the delivery by express or by Air or Ocean. All the delivery will be door to door including tax. It's a hassle free service from Gift-Supplier.
Q: Why choose the custom Rubik cube as a promotional gift?
A: Personalize a custom Rubik's Cube in varied sizes and pieces and print your brand's logo, product picture, tagline, and marketing punchline on it. Get it for yourself or gift it to your employees, distributor, or any other businessperson and expand your reach. People will keep the gift for a long-term basis because it's cute, fun, and can help people to get relax.