Promotional Eco Ear Buds with Custom Wireless Earbuds Logo - Sustainable Impact
Elevate your brand while minimizing your carbon footprint with our exclusive combo featuring eco-friendly earbuds and custom wireless earbuds logo. Our eco-friendly earbuds are crafted from sustainable materials, delivering exceptional sound quality and a commitment to the environment. Pair them with our custom wireless earbuds logo, designed for impactful branding, and create a lasting impression with your audience. These wireless earbuds offer seamless connectivity and endless opportunities to promote your brand sustainably. Whether you're working, commuting, or enjoying music, this combo ensures you get the best of both worlds - eco-conscious sound and effective promotion. Make the sustainable choice for your brand today. Discover the difference it can make.
person person Choose us as your promotional gift supplier is the smartest decision you've made since we have supplied Gifts to 50+ famous brands worldwide, working with 37,000 customers in 20 countries.
Inquiry now
local_shipping Customize your logo for this product and promise to ship it within 7 working days.
ECO-friendly ear buds Description:
l Our Biodegradable Wireless Charging Headphones have a 2-part wireless earbuds logo pouch made of soft TPU and wheat straw for convenient protection and storage.
l Store wireless earbuds logo inside our degradable Bluetooth earphone case to protect them from scratches, bumps, shocks, dirt, and dust.
l This Biodegradable Wireless Charging Headphones have a Strong, durable yet lightweight case for audio on the go; fit your earbuds like a glove.
l The Wholesale wireless earbuds logo is made from the wheat straw and TPU blend which creates a unique and stylish look for this protective earbud case.
l Imprint New ECO-friendly ear buds with your brand name or logo and use Biodegradable Wireless Charging Headphones as a promotional gift to promote your brand.
ECO-friendly ear buds Product details:
Wireless link method: Bluetooth
Support memory card reading: No
Sound principle (the shape of the horn): moving coil
Volume control: support
Support wire control/support key operation: support
HD Signal Type: AAC
Connectivity: Wireless
Uses: Music, Cell Phones, Computers, DJ, Garmin, Sports, Travel, Internet Cafes, iPod Headphones, HiFi Headphones
Function: The microphone, supports Apple Siri, support Google Assistant, Bluetooth
Waterproof grade: IPX-3
Whether to support active noise reduction: not supported
ECO-friendly ear buds used for
Our Biodegradable Wireless Charging Headphones let you Listen to music, podcasts, and more for long hours making ECO-friendly ear buds super comfortable for daily wear inside or outside, offering a convenient business gift that will be reused over and over.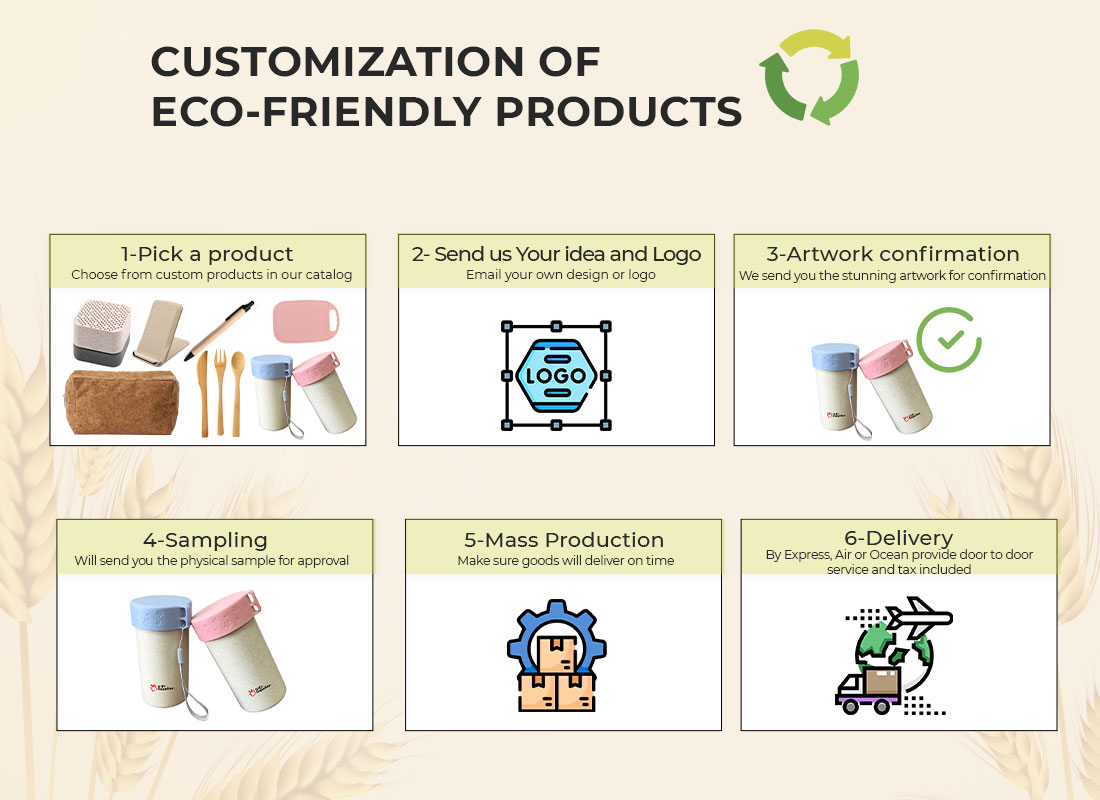 Frequently Asked Questions :
1. Q: Can I order mixed models or colors for the ECO-friendly ear buds?
A: Sure, we are happy to accept mixed orders or colors.
2. Q: Can I customize the Biodegradable Wireless Charging Headphones?
A: Yes, a customized logo or customized shape is also available. The lead time will be longer like 20-25 days depending on the quantity.
3. Q: Do you provide free samples for wireless earbuds logo?
A: We provide the sample for free after customer information verification.
4. Q: Who are we?
A: Gift-Supplier is a leading promotional gift supplier of custom products such as USB drives, Portable Power Banks, Bluetooth Speakers, and wireless earbuds logo. Based in China and established in 2008, Gift-Supplier has quickly grown to be an industry leader.
5. Q: How can we guarantee the quality?
A: Always a pre-production sample before mass production;
Always final Inspection before shipment!